6:16pm: Lewis' three-year deal will be worth $12MM, according to Rand Getlin of NFL.com (Twitter link).
5:32pn: Marcedes Lewis' once-tenuous tenure with the Jaguars will now extend throughout perhaps the remainder of the veteran tight end's career. The Jags have re-signed Lewis on a three-year deal, Mark Long of the Associated Press reports (on Twitter).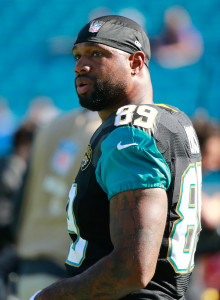 The soon-to-be 32-year-old Lewis decided to stay with the Jaguars despite late interest from the Rams, Long reports.
Lewis took a massive pay cut to stick with the Jags last season, slicing his cap number from $6.8MM to $2.65MM. The terms of this deal have not been announced, but it should be in that range considering where Lewis is at this juncture of his career.
Once thought to be expendable once Jacksonville brought in Julius Thomas on a five-year deal last season, Lewis remained and functioned as the team's No. 2 tight end for most of 2015. But the former first-round pick in 2006 started all 16 games.
The 11th-year veteran has spent his entire career with the Jaguars. He caught 16 passes for 226 yards last season while operating as one of the best pass-blockers at the position when assigned to stay in and help.
Photo courtesy USA Today Sports Images
Follow @PFRumors