Agent Drew Rosenhaus has officially terminated his business relationship with quarterback Johnny Manziel, says Adam Schefter of ESPN.com (via Twitter). Rosenhaus announced last week that Manziel would have a five-day window to take certain steps in order to retain Rosenhaus as his agent, but it seems that window closed without the quarterback committing to making any changes.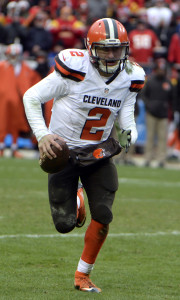 "I have terminated the standard representation with Johnny Manziel in the hopes of helping him get the treatment I believe he needs," Rosenhaus said last Wednesday. "I have informed him that if he takes the immediate steps I have outlined for him that I will rescind the termination and continue to represent him. Otherwise the termination will become permanent. There is a five-day window for me to rescind the termination."

Rosenhaus, who called Manziel's situation "life or death," adding that it's not about football, said during an appearance on PFT Live on Friday that he didn't believe he and Manziel were "on the same page" regarding the treatment he believes the ex-Brown requires. Today's news essentially confirms as much.
During a conversation with TMZ earlier this month, Manziel dismissed the notion that NFL teams would be put off by his fondness for partying, suggesting that there was a difference between parting and being "out of control."
Even if Manziel believes his lifestyle and his behavior isn't an issue for NFL teams, it has clearly been a problem for his agents, who have urged him to seek help. Rosenhaus becomes the second player rep this year to part ways with Manziel — his previous agent, Erik Burkhardt, publicly cut ties with the troubled quarterback in early February, issuing a public statement in which he wrote: "Accountability is the foundation of any relationship, and without it, the function of my work is counterproductive."
Photo courtesy of USA Today Sports Images.
Follow @PFRumors