In the latest inauspicious chapter in the lives of Browns receiver Josh Gordon and free agent quarterback Johnny Manziel, someone identifying himself as Gordon was with Manziel at a rented home in Los Angeles that had incurred damage, reports Mary Kay Cabot of cleveland.com. Further, alcohol and what appeared to be drugs were visible, rental agency owner Nicholas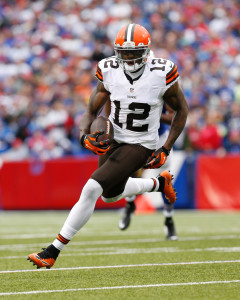 Goodwin told Cabot.
"I didn't recognize Josh because he's not as recognizable as Johnny," Goodwin stated. "I sat and talked to him and said 'how do you know these guys?' He goes, 'I played with Johnny over at Cleveland.' I said, your name? He said 'Josh Gordon.' And I was like 'wow, OK, I don't know if it's a good idea for these guys to be hanging out together.'"
While Goodwin said he didn't witness either Gordon or Manziel engage in drug or alcohol use, he claimed to see what appeared to be cocaine on a table. Goodwin also saw substances that looked like mushrooms and marijuana when Gordon and Manziel were in the home, in which they partied from April 4-6, he said. As a result of the damage done to the home, Manziel has been served with a legal demand for nearly $32K in damages, Cabot writes.
Gordon's troubles are particularly frustrating given that he looked like one of the premier players in football in 2013, the last time he took the field for an extended period of time. In 14 games that year, Gordon racked up 87 receptions, a jaw-dropping 1,646 yards and nine touchdowns. However, various substance abuse-related suspensions have cost Gordon 29 of the Browns' last 48 games. He missed all of the 2015 season thanks to a positive alcohol test and could also sit out the 2016 campaign after the NFL denied his petition for reinstatement this week on the heels of another failed substance test.
Gordon, who turned 25 on Wednesday, will have a chance to reapply for reinstatement Aug. 1. However, the league will keep the ban in place if his off-field behavior doesn't do a 180. The league's decision to not reinstate Gordon came after it collected a tainted urine sample from him in March. Both the "A" and "B" samples were flagged as diluted and came up positive for marijuana. While the actual level of marijuana was below the 35 nanograms per milliliter required for a positive test, the diluted sample is considered a positive test.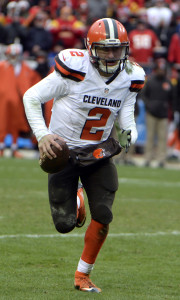 Unlike Gordon, Manziel – a 2014 first-round pick – hasn't shown much promise on the field. Manziel's off-field behavior has been far worse than his on-field performance, though, as his checkered history helped lead the Browns to release him over the winter and has stopped teams from pursing him as a free agent. Super agent Drew Rosenhaus, who began representing Manziel in March, announced earlier this week he would drop the 23-year-old as a client if he didn't seek treatment for his substance abuse problems. That came after Erik Burkhardt, Manziel's previous agent, publicly cut ties with the former Texas A&M star in early February. Rosenhaus told SiriusXM NFL Radio (Twitter link) that he is only thinking about the QB's well-being.
"This is a life or death situation right now," Rosenhaus said. "This is not about football. I'm not going to stand by and watch him injure himself."
Rosenhaus provided an update on the situation Friday, suggesting to Mike Florio on PFT Live that he doesn't think he and Manziel are "on the same page" about the life changes the ex-Brown needs to make.
After a storied college career which included winning the Heisman Trophy in 2012, Manziel has made just eight starts in the NFL, completing 57 percent of his passes for 1,675 yards, seven touchdowns, and seven interceptions. It's difficult to imagine Manziel ever setting foot on an NFL field again without a complete turnaround away from the gridiron. Unfortunately, though, an off-field about-face doesn't appear imminent.
Zach Links contributed to this report. Photos courtesy of USA Today Sports Images.
Follow @PFRumors