As he was on the verge of becoming one of the more noteworthy free agents in the NFL's free agency era, Josh Norman looked for a way to stay with the Panthers.
The fifth-year cornerback called the Panthers and said he'd fire his agent, Michael George, and sign the $13.952MM non-exclusive franchise tender the team placed on him prior to free agency in an effort to further work toward a long-term deal, Mike Jones and Master Tefatsion report in an extensive breakdown for the Washington Post. But the Panthers had already filed the paperwork to rescind Norman's tender, a source told Jones and Tefatsion, meaning Norman's attempt was for naught as he was set for an unlikely sojourn into free agency.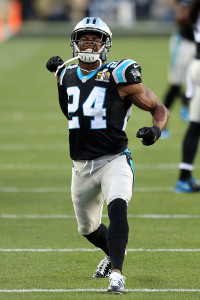 Many Panthers coaches reportedly weren't aware of the move as it was happening, sources told the Post reporters, and some on the Carolina staff wondered if a non-football component existed to induce the team to rescind the tender.
Norman was also given permission to seek a trade earlier as the gulf between the sides grew, and the Rams and 49ers were among the potential partners that could not agree on terms. Although, Norman was not aware how far apart the Panthers and George were on terms — a chasm that reached $25MM in totality — which hovered at the root of the 28-year-old All-Pro volunteering to fire his agent to help facilitate a deal in Carolina, the Post duo reports.
George sought a five-year deal averaging $16MM per season, which would have put Norman above Darrelle Revis among cornerback contracts, but the Panthers weren't willing to go past $12MM AAV. According to a source, Jones and Tefatsion note the Panthers did not want to allocate that much money to a cornerback, a position the Dave Gettleman-managed franchise doesn't value as much as front-seven cogs, when defensive linemen Kawann Short and Star Lotulelei entering their fourth years. Without a fifth-year option that exists for Lotulelei, Short is entering a contract season.
One of 11 teams who expressed interest in Norman, Washington ended up negotiating a five-year, $75MM accord for Norman with Ryan Williams, who took over as the ex-Coastal Carolina cornerback's primary representative.
Washington's top decision-makers were in agreement on Norman, according to the report, and the team had the parameters of an agreement in place on Thursday. DeAngelo Hall also met with Norman prior to his Washington visit to persuade him on joining the team.
Photo courtesy USA Today Sports Images
Follow @PFRumors