After attending a meeting of the Southern Nevada Tourism Infrastructure Committee, Raiders owner Mark Davis sounded more convinced than ever that he can move his club to Las Vegas. "Together we can turn the Silver State into the Silver-and-Black State," said Davis, according to Scott Bair of CSNBayArea.com.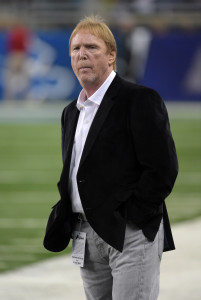 As Paul Gutierrez of ESPN.com details, a $200MM loan from the NFL will help comprise the $500MM the Raiders will put forth towards a stadium effort. The Sands Corporation will pledge another $150MM, so in total, private money will account for $650MM of the $1.4 billion needed to fund a stadium. The rest of the project, which would take three years to complete, would be paid for by tourism taxes, according to Gutierrez.
"We're not using Las Vegas as a bargaining chip," Davis said. "This is real." Of course, the Raiders would still need the approval of the league to move, but Davis doesn't foresee that to be an issue. "If we give them an offer they can't refuse, and that's what we're talking about now, I don't see a problem," said the Raiders owner.
The Raiders also issued a statement on the matter, but unsurprisingly, didn't make any earth-shattering comments. "The Raiders would like to thank the Southern Nevada Tourism Infrastructure Committee and Mayor Goodman for their time today as we continue to explore options for a permanent stadium solution," reads the statement. "We appreciate the support and passion of Raiders fans everywhere."
Photo courtesy of USA Today Sports Images.
Follow @PFRumors