The Jets are eyeing quarterback Brian Hoyer closely and have expressed interest in acquiring him, league sources tell Jason Cole of Bleacher Report (video link). That means that the Jets could look into trading for him or signing him as a free agent if Houston opts to release him.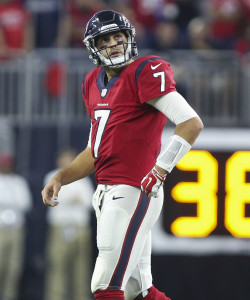 Hoyer, 30, is set to enter the second year of a two-year deal and while he has a base salary of $4MM, none of it is guaranteed. Given that his gameday roster bonuses would also be cleared out, Hoyer's release would save Houston nearly $5MM in cap space. Hoyer wasn't awful last season, as he completed about 61% of his passes for 17 touchdowns against just nine interceptions. Still, Hoyer did finish 20th in Football Outsiders' DYAR metric. The Texans have a new signal caller in Brock Osweiler and the Jets view Hoyer as a capable starter.
One way or another, the Texans and Hoyer are expected to part ways. Meanwhile, the Jets are holding firm in their negotiations with Ryan Fitzpatrick while the veteran quarterback is insisting on a much larger deal than Gang Green has been willing to give him. The Jets want to pay Fitzpatrick roughly $7MM/year – the typical cost of a high-end backup – while Fitzpatrick wants to be paid like one of the better starters in the league, which would put him at about $16MM/year.
Regardless of how things go with Hoyer and Fitzpatrick, the Jets want to bring in a young quarterback. Even though the Jets selected Baylor product Bryce Petty in the fourth round of the 2015 draft, they're talking with prospects Christian Hackenberg and Paxton Lynch and, according to Cole, they could select a QB in the first three rounds of this month's draft.
Photo courtesy of USA Today Sports Images.
Follow @PFRumors