The Rams officially have a new face of the franchise. After sending a boatload of picks to Tennessee in exchange for the right to move up from No. 15 to No. 1, the Rams used that first overall pick to select California quarterback Jared Goff, who the franchise views as its long-term answer at quarterback as it makes the move to Los Angeles.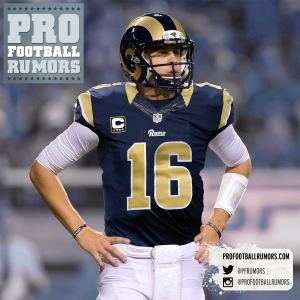 Goff, considered the most polished quarterback prospect in this year's class by many analysts and observers, threw for nearly 8,700 combined yards and 78 touchdowns during his final two years in college. In 2015, he established new personal bests by completing 64.5% of his passes and throwing for 4,714 yards and 43 TDs.
While some experts prefer Carson Wentz's upside to Goff's, our Rob DiRe ranked the Cal product as his No. 1 prospect at quarterback, writing that Goff's "ability to work in a crowded pocket and deliver the football from unorthodox angles" is part of what makes him special.
After drafting a potential franchise running back last year in Todd Gurley, the Rams have now added another possible franchise player to their backfield in an attempt to fortify an offense that has frequently let down a talented defense in recent years. Having traded up to land Goff, Los Angeles now won't make another pick until Saturday, when the fourth round gets underway, barring any additional trades.
Along with the No. 1 overall selection, the Rams received a 2016 fourth-round pick (No. 113), and a 2016 sixth-rounder (No. 177) in their deal with the Titans. However, the cost to acquire those three picks was steep — Tennessee got the Rams' first-rounder this year (No. 15), two 2016 second-round picks (Nos. 43 and 45), a 2016 third-round pick (No. 76), and first- and third-round picks for 2017.
With Goff now in the mix, the Rams will have some decisions to make at the quarterback position, which is getting crowded. The team appears likely to keep Case Keenum, who received and signed a first-round RFA tender, and 2015 third-rounder Sean Mannion, which would make veteran QB Nick Foles the odd man out. Foles has reportedly drawn trade interest from "four or five" teams.
Follow @PFRumors