Contract talks between safety Tyrann Mathieu and the Cardinals are once again in motion, agent Tom Condon tells Kent Somers of The Arizona Republic. No deal is imminent at this time, but Cardinals GM Steve Keim is on record as saying that a new deal for the player formerly known as Honey Badger is a priority. The Cardinals and Mathieu discussed an extension back in February, but things ostensibly were put on hold during the madness of free agency and the draft.
[RELATED: Cardinals Sign Robert Nkemdiche]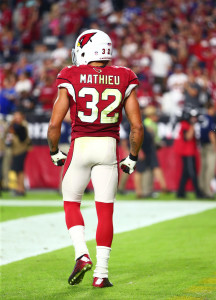 Mathieu is slated to earn a modest $1.5MM salary in his contract year. Of course, his negotiations are complicated after he underwent surgery in December to fix his torn ACL. Mathieu, who will not take the practice field until training camp this summer, could be in line for more than $10MM per year on his new deal. However, as Somers notes, the Cards might want to see how Mathieu looks before committing that kind of cash.
The former third-round pick is one of the league's hardest hitters at his position and is an impact player when he's on the gridiron. However, Mathieu has missed eight games across his three NFL seasons and the team likely has concerns about his durability.
"More than anything he's a football player regardless of position and he's a guy who can be a difference maker," Keim told PFT. "The hardest part of it all is in three years he has had two significant knee injuries. Aside from that Tyrann has done everything right on and off the field and he's a guy that we envision as hopefully a face of the program moving forward."
In 2015, Mathieu earned a Pro-Bowl selection and was named First-Team All-Pro. In his 14 games, Mathieu recorded five interceptions, 89 tackles, 1 sack, 17 passes defensed, and also recorded a defensive touchdown.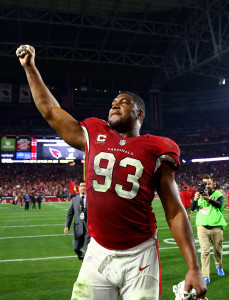 In other Cardinals contract news, Condon tells Somers that no contract talks have taken place regarding fellow client Calais Campbell. The defensive lineman is slated to carry a hefty $15.25MM cap number this year with a salary of $9.5MM. Condon claimes that the team's selection of Robert Nkemdiche in last month's draft has no bearing on Campbell's future in Arizona, but I personally do not agree with the agent's assessment of the situation. It's also worth noting that the Cardinals traded for standout defensive end Chandler Jones earlier this offseason and there probably isn't enough money in the budget to dole out big bucks to both players in the long-term.
Campbell, 30, is coming off of his second-straight Pro Bowl season, but the Cardinals will have some tough choices to make if they hope to retain Jones. After defensive lineman Malik Jackson and Olivier Vernon received monster deals this offseason, the Cardinals may have pay Jones $20MM or more per season on a multi-year deal.
In late March, Campbell dumped troubled agent Ben Dogra in favor of Condon.
Photo courtesy of USA Today Sports Images.
Follow @PFRumors