Former Browns quarterback Johnny Manziel is the subject of an NFL investigation, as TMZ reports. The owner of a rental car agency contacted the league after Manziel failed to pay for $90K in damages to a rental vehicle, and was ultimately sought out by NFL investigators. League sources tell TMZ that the car crash inquiry is part of a "larger Manziel investigation which is ongoing."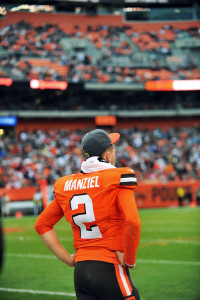 Although the TMZ article hints that Manziel is not subject to league discipline given that he's not currently on an NFL roster, that is actually not the case. As Mike Florio of Pro Football Talk writes, the NFL has time and again suspended players who were at the time unemployed. With Manziel's litany of incidents — both before and after he was released by Cleveland — it stands to figure that he'll be served with a ban at some point, especially if he begins to seriously consider an NFL comeback.
Manziel, 23, was indicted in April after a domestic violence involving his girlfriend — the NFL was said to be ramping up its own investigation of Manziel during that time, but the league hasn't announced any sort of punishment and/or resolution. Meanwhile, Manziel himself has reportedly expressed a desire to play in the NFL during the 2016 season, but given his seemingly endless streak of poor decisions, it's hard to believe that any club would take such a chance.
Photo courtesy of USA Today Sports Images.
Follow @PFRumors