Free agent quarterback Johnny Manziel is aiming to put his myriad off-field troubles behind him and play in 2016, he told A.J. Perez of USA Today.
"I'm hoping to take care of the issues in front of me right now so I can focus on what I have to do if I want to play in 2016," Manziel said. "I also continue to be thankful to those who really know me and support me."
Manziel's latest off-field blow came Tuesday when agent Drew Rosenhaus, who only began representing the 23-year-old in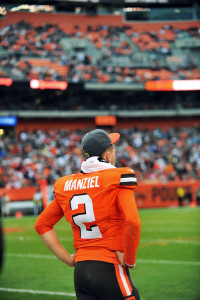 March, dropped him as a client. Rosenhaus' decision came after offering Manziel an ultimatum last week to either seek treatment for substance abuse issues within a five-day window or lose his representation. Manziel didn't follow through, so Rosenhaus joined Erik Burkhardt as the second agent to sever ties with the two-year NFL veteran this offseason.
"This is a life or death situation right now," Rosenhaus told Pro Football Talk's Mike Florio last Friday. "This is not about football. I'm not going to stand by and watch him injure himself."
Combined with his uninspiring on-field performance since entering the NFL as a first-round pick in 2014, Manziel's checkered off-field history helped lead the Browns to release him over the winter. That turmoil away from the gridiron has also stopped teams from pursing the ex-Texas A&M star and 2012 Heisman Trophy winner as a free agent.
Manziel is currently facing up to a year in jail and a $4K fine if a Dallas grand jury indicts him on a misdemeanor assault charge stemming from a January altercation between him and ex-girlfriend Colleen Crowley. Further, Mary Kay Cabot of cleveland.com reported last week that Manziel had been served with a legal demand for nearly $32K in damages to a Los Angeles house he rented and partied in from April 4-6. Manziel and Browns receiver Josh Gordon were at the house with what appeared to be drugs – including cocaine, mushrooms and marijuana – visible, according to rental agency owner Nicholas Goodwin. It's important to note that Goodwin didn't actually see Manziel or Gordon engage in the use of drugs or alcohol. Manziel, of course, spent a significant portion of last offseason in a rehab facility for substance abuse issues.
"So many people only have one image of Jonathan but, believe it or not, he takes all this very seriously," Denise Michaels, Manziel's spokesperson, told Perez. "He's hoping that he can clear up his personal issues, start interviewing agents and see what he needs to do if he wants to play this year."
Photo courtesy of USA Today Sports Images.
Follow @PFRumors