THURSDAY, 9:35am: Manziel's bond has been set with two conditions, according to Ari Melber of MSNBC (on Twitter). He is prohibited from having contact from his accuser and he is not allowed to be in possession of firearms at this time.
WEDNESDAY, 5:34pm: Johnny Manziel has been booked in Texas and he has posted bond in his domestic violence case, as The Associated Press reports. The former Browns quarterback is set to face a Dallas judge on Thursday morning.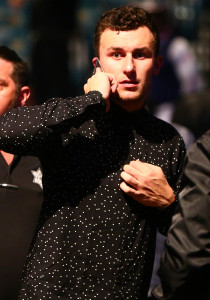 Manziel, 23, was indicted by a grand jury in March following allegations that he struck his ex-girlfriend and threatened to kill her during a night out in January. If convicted of this Class A misdemeanor, the Texas A&M product could face up to a year in jail and a $4K fine. Late last month, Manziel's attorney indicated that he will not seek any sort of leniency based on his client's celebrity status.
"Judge, set the bond at whatever you think is right," attorney Bob Hinton said he plans to say. "We will produce Johnny and we will pay the bond. We are not asking for any special treatment."
The Browns cut the former Texas A&M star in March and two agents have dropped Manziel as a client in 2016. Since the Browns drafted the former Texas A&M star in the 2014 first round, Manziel appeared in 15 games, made eight starts, and tossed seven touchdowns and seven picks. Manziel showed progress in parts of his six starts last season, but his off-field issues overshadowed his positive steps on the gridiron. Those troubles carried into the offseason, leaving Manziel without a job and with an unclear future in professional football.
Photo courtesy of USA Today Sports Images.
Follow @PFRumors