The interest that Raiders owner Mark Davis is showing in Las Vegas isn't a bluff, or an attempt to play one city against another, writes Vincent Bonsignore of the Los Angeles Daily News. According to Bonsignore, Davis is becoming increasingly convinced that "the Oakland ship has sailed," and is pushing to make Las Vegas the Raiders' new home.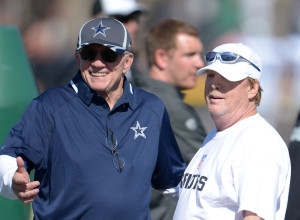 "It's really a tremendous opportunity," Davis said. "A fresh start in a growing market that's easily accessible to areas of the country that are hot-beds for Raider Nation. But not just that, we want to be a member of the community. We want to build a strong, local fan base, and we believe we'll do just that. And when people think about Las Vegas, it won't just be for entertainment and vacations and casinos. They'll think about the Raiders. The Las Vegas Raiders. That's a game-changer in so many ways."
While Davis sounds enthusiastic about the idea of moving his franchise to Vegas, he's not the only owner interested in the possibility. One high-ranking NFL executive tells Bonsignore that Vegas would be "a great home for the Raiders," and Cowboys owner Jerry Jones suggested publicly this week that he would likely be on board with the idea.
Jones didn't specifically mention the Raiders when discussing the idea of an NFL team moving to Vegas, but as Todd Archer of ESPN.com details, the Cowboys owner indicated he would welcome the discussion, calling the city "one of the real crown jewels of communities" in America.
"As you well know, you have to have the right situation," Jones said. "You have to have the right ownership, want to and then a lot of other considerations that have to come into play. For me, I think that certainly the fact that Las Vegas has a gambling aspect to it is far overshadowed by the entertainment value, if you will, family appeal, that you have, the convention appeal. So it does not have disfavor with me, in my opinion, relative to being an NFL city."
Jones is just one owner out of 32, but he played an instrumental role in the Rams' move to Los Angeles, throwing his support behind Stan Kroenke's project and getting other owners on board with the Rams' relocation plan. If the Cowboys owner pushes equally hard for a Raiders move to Las Vegas, it would be a great sign for Davis' franchise.
Still, although the Raiders look like the strongest candidate to consider a move to Las Vegas, mayor Carolyn Goodman suggested during an appearance on SiriusXM NFL Radio (SoundCloud link) that if it doesn't work out with the Raiders, the city plans to continue to push forward with its stadium project in the hopes of attracting another NFL team.
Photo courtesy of USA Today Sports Images.
Follow @PFRumors