Nearly five months have passed since an Al Jazeera America documentary linking several NFL players to banned substances came to the fore, but the league still hasn't interviewed any of the individuals mentioned in the film. That could be on the brink of changing, reports Christine Brennan of USA Today.
"It's our expectation that we will interview the players involved over the next month or so," league spokesman Joe Lockhart told Brennan on Wednesday.
Lockhart added that the league is "in conversations with the union over the timing" of the interviews.
"The Dark Side," a documentary centering on the global epidemic of performance-enhancing drugs in sports, was released in December. In that production, ex-Guyer Institute pharmacists Charlie Sly and Chad Robertson name now-retired quarterback Peyton Manning, Packers linebacker Julius Peppers, Steelers linebacker James Harrison and current free agent linebacker Mike Neal as players they supplied with PEDs. They also connect Packers linebacker Clay Matthews to the painkiller Toradol.
Sly alleges in the documentary that the Guyer Institute – an Indianapolis-based anti-aging clinic – supplied Manning and his wife, Ashley, with human growth hormone when he was recovering from a career-threatening neck injury in 2011. Neal, Peppers and Harrison are all linked to hormone supplement Delta-2, which is designed to stay ahead of drug tests.
Manning, whose Broncos defeated the Panthers in Super Bowl 50, stated after the documentary's release that he would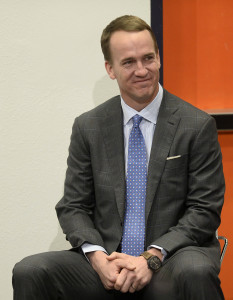 welcome a league investigation into the matter and added that he'd consider legal action. As it turns out, however, the 40-year-old will not sue, relays Brennan. He remains on the league's interview list, though, because of the potential that he'll someday end up in a front office.
As of now, Manning doesn't want to spend significant money or time on a lawsuit that would publicize the private medical records of him and his wife, per Brennan, who notes that Sly's allegation that Manning went to the Guyer Institute ultimately proved true. Further, the Mannings haven't disputed the notion that Ashley Manning had HGH and other drugs shipped to her.
For now, Manning is in a strategic phase and keeping an eye on how the libel lawsuits filed against Al Jazeera America by Major League Baseball players Ryan Howard and Ryan Zimmerman fare. Howard and Zimmerman are also included in the documentary, and they elected to take legal action in January. If their cases end up dismissed, Manning will know his also would have been, writes Brennan.
As for the other players involved, Neal is still unsigned despite logging a few productive seasons in Green Bay. He attributes his unemployment, at least in part, to the documentary. Harrison decided against legal action in December for financial reasons, and he made news earlier this month when he tried to videotape his own drug test. Peppers – who does have a 2002 PED suspension on his résumé – called the documentary "irresponsible journalism" upon its release, and Matthews denied knowing Sly.
Photo courtesy of USA Today Sports Images.
Follow @PFRumors