Contract talks between the Panthers and defensive tackle Kawann Short "temporarily are on hold," according to ESPN.com's David Newton. The two sides have been discussing a new deal since May and even though talks have cooled down, Newton still expects a deal to get done between June and the start of the 2016 season. For his part, Short isn't sweating the potential extension.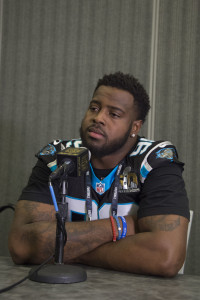 "If it happens, it happens, but we haven't focused on that," Short said of a new deal. "I've still got a lot I need to do. I've put myself in the position, but at the same time, I'm not where I want to be. We're not rushing the issue."
Short led the Panthers with 11 sacks last season and Carolina knows that the bidding for Short will get out of hand if he reaches the open market after the 2016 season . At present, the Panthers have roughly $30MM in cap room which will allow them to give Short a deal that reflects his place as one of the league's best defensive tackles.
Short, 27, enjoyed a breakout season in 2015, earning his first Pro Bowl nod and starting all 16 of the Panthers' games for the first time. The Purdue product racked up 11 sacks to go along with 55 tackles, three forced fumbles, and a pair of fumble recoveries. He also added two more sacks and a forced fumble in the postseason.
As PFR's Dallas Robinson observed in his preview of the Panthers' offseason, the negotiations between Short's camp and the team will be interesting. On one hand, the Pro Bowl defender has really only produced at an elite level for one season. However, there's no reason to think Short's reps won't make the case that their client deserves to be paid like Marcell Dareus or Gerald McCoy — those players inked long-term pacts worth $95MM+, making them the highest-paid 4-3 defensive tackles in the NFL not named Ndamukong Suh.
If the two sides cannot agree on a brand new deal, Short will likely receive the franchise tag from the Panthers. This year, the franchise salary for a defensive tackle was $13.615MM and that number is expected to go a little bit higher in 2017.
Photo courtesy of USA Today Sports Images.
Follow @PFRumors