Patriots wide receiver Julian Edelman recently underwent left foot surgery but is on track to return for training camp, sources tell Adam Schefter and Mike Reiss of ESPN.com (on Twitter). Edelman recently was spotted in New York City with a protective boot on his foot and riding around on a motorized device after having undergoing a "cleanup procedure" (link).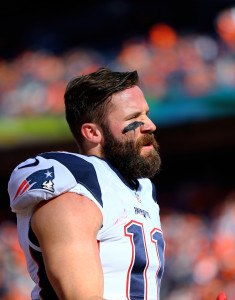 Last year, Edelman missed roughly half of the regular season due to his foot injury. In nine games, the 29-year-old caught 61 passes for 692 yards and 7 touchdowns.
Here's more out of the AFC East:
The Patriots worked out wide receiver LaRon Byrd on Wednesday, according to a source who spoke with Aaron Wilson of The Houston Chronicle (on Twitter). Byrd has had previous stints with Arizona, Dallas, Cleveland, and Miami. Washington released Byrd earlier this month.
Joe Buscaglia of WKBW looked at how running back Dri Archer could fit in with the Bills. Buffalo already has LeSean McCoy and Karlos Williams at tailback with two other promising young players behind them, so he feels that Archer's best chance at cracking the roster would be to make it as a kickoff/punt returner. In 2015, the Bills were one of the worst teams in the league when it came to returning the ball on special teams, so Archer's speed could provide a big boost in that area.
A phone call from Bill Belichick sealed the deal for undrafted running back D.J. Foster to sign with the Patriots, Mike Reiss of ESPN.com writes. "I was talking to a few teams at the time, but when I got the chance to talk to Coach Belichick, I kind of took a step back and talked to my family, figuring out what's right for me in my life as a young adult," the former Arizona State athlete said. "I thought it was the best decision for me." Foster was a hybrid receiver/tailback in college but so far the Patriots have been utilizing him as a running back in practice. For his part, Foster says that he isn't bummed out about going undrafted and says he's excited about the opportunity that he has in New England.
Photo courtesy of USA Today Sports Images.
Follow @PFRumors