After adding Janoris Jenkins and Eli Apple this offseason, Dan Graziano of ESPN.com opines that the Giants should look into trading Dominique Rodgers-Cromartie. DRC is unlikely to be on the Giants' roster in 2017 given that he's slated to carry an $8.5MM cap number in a year that the Giants have Jenkins at $15MM. So, if Apple shows that he's ready to start right away, why not consider trading Rodgers-Cromartie?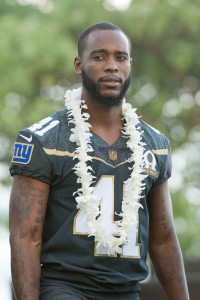 The two-time Pro Bowler is set to earn a modest $5.98MM salary this year and there are plenty of teams that could use help at corner. At the same time, the Giants' big need is really at the nickel spot since their top three corners are all better suited to play on the outside. Graziano notes that free agents Leon Hall, Brandon Boykin, and Trumaine McBride could all conceivably fill that role for Big Blue. However, even if Apple proves to be NFL-ready, Rodgers-Cromartie would provide the team with valuable depth at a reasonable price.
Here's more out of the NFC East:
While everyone is paying attention to Sam Bradford and his feelings on Carson Wentz, we haven't heard much about fellow Philly newcomer Chase Daniel. When Daniel signed with the Eagles this offseason, he was told he could compete with Bradford for the starting role. Now, with the No. 2 overall pick in the mix, Daniel's path to playing has gotten a whole lot tougher. Still, Daniel says he's taking everything in stride. "There's a reason they brought me here. It wasn't necessarily to just sit on the bench and not push people for starting jobs," Daniel said Tuesday, according to Jeff McLane of The Inquirer. "But I think there's a fine line there. I'm a professional. I've been in about every situation you could possibly be in. . . . So I have a clear view of what's expected of me and the funny thing is I expect even more out of myself."
In today's mailbag, a reader asks Ralph Vacchiano of the Daily News about the Giants' timetable for pondering life without Eli Manning. Vacchiano believes that the Giants should start considering the future of their quarterback position soon, though he's not so certain that they will. In theory, the Giants could do what Green Bay did with Aaron Rodgers and draft a promising QB to learn from the veteran starter. However, it today's NFL, it's tougher to talk a high-end rookie quarterback into taking the scenic route.
On Tuesday, Washington released wide receiver Andre Roberts in a move that will save them $3MM in cap room.
Follow @PFRumors