Free agent quarterback Ryan Fitzpatrick is content to wait until training camp, if necessary, before signing his next deal, says Jason Cole of Bleacher Report (video link). The Jets, whom Fitzpatrick spent last season with and are hoping to re-sign him, unsurprisingly want to lock up the signal-caller well before camp.
While the Jets' goal is to have Fitzpatrick back in their uniform as soon as possible, there remains a wide chasm between the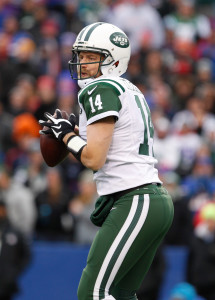 two sides with respect to the 33-year-old's value. The Jets reportedly offered Fitzpatrick a three-year, $24MM deal that could be worth up to $36MM with incentives. In terms of annual value, $8MM would place Fitzpatrick in company with offseason free agent signings Robert Griffin III ($7.5MM) and Chase Daniel ($7MM) – neither of whom has been nearly as successful as Fitzpatrick in the NFL. While the Jets' reported offer features upward of $15MM in guarantees, Cole notes that amount isn't fully guaranteed.
Fitzpatrick, meanwhile, is looking for a mean yearly value in the range of $12MM to $16MM, according to Cole, and would like a contract with the upside of $16MM to $20MM per annum with incentives factored into it. At his current asking price, Fitzpatrick would reside in similar territory to Nick Foles ($12.25MM) and Andy Dalton ($16MM).
After the Jets acquired Fitzpatrick from the Texans last year for a mere late-round pick, he went on to have his best season for a 10-6 club that narrowly missed the playoffs. The career journeyman unexpectedly totaled personal highs in touchdowns (31) and yards (3,905), and is now angling to parlay that showing into a contract reflective of it.
Photo courtesy of USA Today Sports Images.
Follow @PFRumors