TUESDAY: 8:42am: Fitzpatrick's three-year, $24MM deal can balloon up to $36MM with incentives, Ian Rapoport of NFL.com tweets. The deal, which as previously reported would pay him $12MM in year one, would give him more than $15MM guaranteed.
SUNDAY, 3:01pm: Reports last week indicated that the Jets had a offer on the table for quarterback Ryan Fitzpatrick, and today we've received a little more clarification on the details of that contract proposal. New York has offered Fitzpatrick a three-year deal worth $24MM in total, with $12MM available in 2016, but an average of only $6MM per year in 2017 and 2018, according to Charles Robinson of Yahoo! Sports (Twitter link).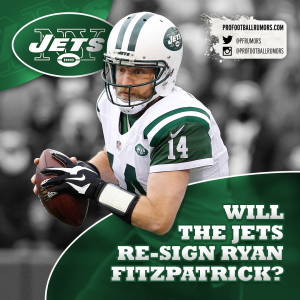 [RELATED: Eric Decker sitting out OTAs in support of Fitzpatrick]
Obviously, that report leaves some information to be desired, such as the exact structure of the contact with respect to bonuses, whether they be signing or roster. But at first glance, it would seem that Fitzpatrick would earn $6MM base salaries in each of the next three seasons, with a $6MM bonus payable in 2016. If it's a roster bonus, it would be prorated over the life of the contract, meaning Fitzpatrick would count for $8MM against the cap from 2016-2018.
That $8MM annual average would rank just 23rd among quarterbacks in the NFL, behind the likes of Andy Dalton and Nick Foles and just ahead of Andrew Luck and Robert Griffin III. If that's the case, it's not surprising that Fitzpatrick finds that offer a bit unfair after a season during which he helped the Jets to a 10-6 record while passing for almost 4,000 yards and 31 touchdowns. Fitzpatrick has indicated that he'd like to re-sign with Gang Green, however, and there aren't many other clubs around the league that are still looking for a signal-caller.
PFR recently ranked Fitzpatrick as the No. 1 available free agent left on the board, placing him ahead of Anquan Boldin, Arian Foster, and others.
Photo via Pro Football Rumors on Instagram.
Follow @PFRumors