Memorial Day weekend is fast approaching and the Jets remain at a standstill with free agent Ryan Fitzpatrick. Even as he remains in limbo, the quarterback confirmed today that he still wants to return to Gang Green.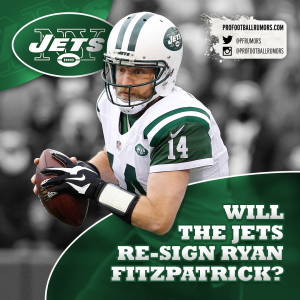 [RELATED: Jets Notes: Forte, Fitzpatrick, Hackenberg]
"I had a great time with the guys last year and I want to continue doing this. I'm still preparing for the season," Fitzpatrick told SiriusXM NFL Radio (audio link). "It's been a process and the good thing about it is the discussions have been behind closed doors."
After enjoying a career year at the age of 33, Fitzpatrick has been pushing for a contract that would put him in line with some of the league's better quarterbacks. The Jets, meanwhile, have reportedly offered him a deal that would pay him roughly $7MM per year. Fitzpatrick surely wants to get paid like Brock Osweiler and Sam Bradford did this spring, but it sounds like he has softened his stance at this stage.
"You would drive yourself crazy looking at other contracts around the league," said Fitzpatrick, who threw 31 for touchdowns and led the Jets to a 10-6 record in 2015.
Last month, the veteran reportedly told people close to him that he would "rather not play football" than accept what the Jets were offering. However, Fitzpatrick shot that notion down today when he explained that he is "playing football next year" (link via Rich Cimini of ESPN.com).
Photo from Pro Football Rumors on Instagram.
Follow @PFRumors