MONDAY, 4:13pm: Broncos coach Gary Kubiak said Talib has been released from the hospital and the hope is for him to be in Denver tomorrow or Wednesday, James Palmer of NFL.com tweets.
9:12am: The bullet entered and exited Talib's leg without hitting any arteries or tearing any ligaments, according to Adam Schefter of ESPN.com (via Facebook). Talib got stitches but he did not require surgery.
SUNDAY, 10:51pm: The Broncos announced that Talib is expected to be released from the hospital on Monday. However, he will not be able to join the team for their visit to Washington D.C. and photo op with President Obama.
6:42pm: The Broncos have released a statement (Twitter link via Mike Garafolo of FOX Sports), disclosing that Talib was shot in the lower right leg and is still recovering at a Dallas hospital. He is expected to make a full recovery.
4:35pm: Broncos PR man Patrick Smyth confirms (via Twitter) that the club has spoken with Talib and says he is "OK," though he is still in the hospital. For what it's worth, a source tells Klis (Twitter link) that the gunshot was "accidental."
3:43pm: Broncos cornerback Aqib Talib was one of multiple people shot this morning following a fight at Dallas nightclub, according to Liz Farmer of the Dallas Morning News. Farmer reports that Talib is one of two shooting victims, while Rebecca Lopez of WFAA (Twitter links) puts the total number shot at three. Per Mike Klis of 9NEWS (Twitter link), Talib suffered a minor leg injury from a gunshot wound, and the Broncos have been in contact with him. Talib was previously at Medical City Hospital in Dallas, but Jeff Darlington of NFL.com tweets that the Denver defensive back has been released.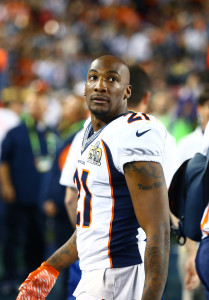 Per Farmer, one person entered the club and shot another patron who was already inside — a fight continued outside the club, where another attendee was then shot. Again, reports on the situation are quite murky, but it sounds like Talib was one of those two victims. Troy Renck of the Denver Post (Twitter link) confirms that Talib was shot in the leg, and was told that his Broncos teammates believe that Talib is not seriously hurt.
Without knowing more details about the situation at the present time, it's difficult to offer more than a hope that all those involved in the altercation and its aftermath ultimately prevail. According to Farmer's report, those who were shot were taken to medical centers with "non-life-threatening" injuries, so while the situation is obviously serious, perhaps no one will involved will face the most dire consequences.
This incident isn't the first time that Talib has been in the middle of off-the-field trouble, and as Farmer notes in her story, Talib was involved in a similar incident in Dallas last year, when he and his brother were allegedly part of a fracas at a separate nightclub. In 2011, Talib was charged with aggravated assault with a deadly weapon after allegedly firing a gun at his sister's boyfriend — those charges were ultimately dropped.
Photo courtesy of USA Today Sports Images.
Follow @PFRumors