This week, the Ravens parted ways with tackle Eugene Monroe after watching him miss a full season's worth of games over the past two years. Now, as he looks for his next NFL home, the veteran insists that he is healthy. He's also not backing down from his campaign to get medical marijuana removed from the league's list of banned substances, which may have been an ancillary factor in his release.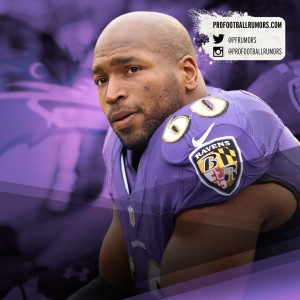 [RELATED: 8 Teams That Could Sign Eugene Monroe]
"I will not be returning to the Ravens this season. It's never easy moving on – I love Baltimore and its fans – but this is all part of the game. Despite the current uncertainties, one thing is for sure: whatever happens in terms of my professional football career, I will never stop pushing for the League to accept medical cannabis as a viable option for pain management," Monroe said in a statement (Twitter link). "I will do everything I can to ensure the generations of NFL players after me won't have to resort to harmful and addictive opioids as their only option for pain management. I've been working hard this offseason to recover from my injuries. I am cleared to play and excited to get back on the field and compete."
Even though the Ravens reportedly weren't wild about Monroe's cause, it's hard to imagine that it was a driving factor in him being placed on the trading block and subsequently released. By the same token, it's unlikely that any interested team will write him off based solely on that. However, if a team assumes that Monroe is a frequent marijuana user, he then might appear to be at risk of league suspension. Of course, there are plenty of NFL players who enjoy weed and have never failed an NFL-administered drug test.
To gauge public opinion, we polled PFR readers on Twitter earlier today to ask whether Monroe's advocacy for medical marijuana should be a deterrent for interested teams. So far, 75% of you have said that his pro-pot stance should not cause any team to shy away from him.
Photo via Pro Football Rumors on Instagram.
Follow @PFRumors