Just as the Eagles had hoped, Fletcher Cox has reported to the Eagles for the start of their mandatory June minicamp. The defensive tackle, who actually arrived on Monday, issued a statement to the press just minutes ago: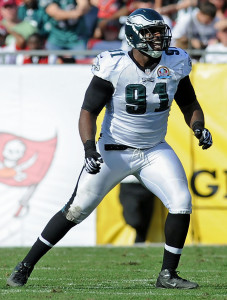 "I'm happy to be back in Philadelphia to get back to work with my teammates and coaches. I'm excited for this upcoming season and I can't wait to get on the field for mini-camp this week, learn our new defense, and do whatever I can to help our team win. Any discussion about my absence from the offseason program or my contract will be handled privately between me, my agent and the Eagles organization," Cox said in the statement.
[RELATED: Darren Sproles Reports To Eagles]
As a first-round pick in 2012, Cox is currently under contract for one more season, with a fifth-year option for 2016 worth $7.799MM. The Eagles, of course, do not want to see him test the open market next spring.
Marcell Dareus' contract with the Bills will likely be a point of comparison in the Cox extension talks, and the Cox could ultimately top that Dareus deal to become the second highest-paid defensive tackle in the league, behind Ndamukong Suh. Dareus' contract with the Bills averages $15.85MM per year, with $60MM in total guarantees ($42.9MM fully guaranteed).
Cox skipped voluntary OTAs last month as the two sides wrestled over potential contract terms. Had Cox continued his holdout through this week, he would have faced upwards of $76K in fines. Eagles GM Howie Roseman is on record as saying Cox is a "huge part" of the team's future, but it will cost Philly an awful lot to make that a reality. One report earlier this year claimed that the two sides were closing in on a long-term deal with more than $52MM in guarantees while another report indicated that no deal was close. Many weeks later, there's still no agreement between the standout defensive lineman and Philadelphia.
Cox, still only 25, had arguably the best season of his four-year career in 2015, setting a new career high with 9.5 sacks. He also racked up 71 tackles, three forced fumbles, and a pair of fumble recoveries. The performance earned Cox his first Pro Bowl nod, along with a top-10 spot on Pro Football Focus' rankings of interior defenders — the Eagles standout placed ninth out of 123 qualified players.
Photo courtesy of USA Today Sports Images.
Follow @PFRumors