Safety Roman Harper is re-signing with the Saints, according to his representatives at SportsTrust Advisors (Twitter link). Harper played for New Orleans from 2006-2013.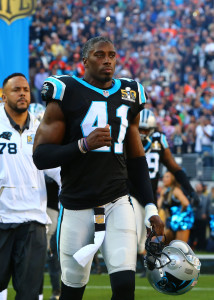 Harper, whom the Saints took in the second round of the 2006 draft, spent his first eight seasons in New Orleans before signing with the division-rival Panthers in 2014. The 33-year-old proved to have a fair amount left in the tank last season for the NFC champions, starting all 19 of their games (playoffs included) while grading 53rd out of 89 qualifying safeties at Pro Football Focus.
While with the Saints, Harper earned two consecutive Pro Bowl nods in 2009 and 2010 and helped the team win the Super Bowl following the '09 season. After appearing in just five regular season games in his rookie campaign, Harper started just about every game for the Saints from 2007 onwards. In February 2014, Harper and other notable Saints vets were released to help ease the team's cap situation. Saints GM Mickey Loomis was quick to admit that the team was not wild about having to jettison some of its most beloved players.
"These were not easy decisions to make," said Saints GM Mickey Loomis in a statement after waiving Harper and others. "Since we acquired them, Jabari [Greer], Roman, Will [Smith] and Jonathan [Vilma] have all been excellent players on the field for us. Each of them were integral parts in turning this program around and winning a Super Bowl…. However, a new NFL year is about to begin and, with the start of free agency in March, these difficult moves allow us to position our team under the salary cap to move forward for 2014."
Photo courtesy of USA Today Sports Images.
Follow @PFRumors