The old adage that defense wins championships may or may not be true, but you'll be hard-pressed to find a title-winning team that didn't build heavily through the draft. Rookie classes, naturally, are evaluated on the perceived upside of the NFL newcomers, but which rookies are ready to contribute right out of the gate? And, how do they fit in with their new team schematically?
To help us forecast the immediate future of these NFL neophytes, we enlisted the help of draft guru Dave-Te Thomas who has served as a scouting personnel consultant to NFL teams for multiple decades.
Today, we continue PFR's Impact Rookie series with his insight on the Jacksonville Jaguars' draft class:
Patience and an unlimited bank account by team ownership might just be the tickets to get the Jaguars into the playoff picture in 2016. If not, heads are certain to roll, both in the front office and on the field. The maturation of quarterback Blake Bortles, along with the emergence of receivers Allen Robinson and Allen Hurns, gives Jacksonville formidable aerial weapons. The addition of former Jets tailback Chris Ivory gives the team a solid 1-2 punch in the backfield, as the newcomer is expected to split time with T.J. Yeldon.
The defense received the bulk of the front office's attention via the free agent market. Denver's Malik Jackson was brought on board to join injured 2014 first-round talent Dante Fowler, drastically upgrading the team's pass rush. Toss in free safety Tashaun Gipson leading a revamped secondary and you can see that coordinator Todd Wash had enough weapons on hand even before the cache of talent the team snatched during the draft.
Jacksonville failed to address their primary need – offensive line – spending six of their seven draft selections on defensive talent. Still, you can envision at least two future All-Pros (Jalen Ramsey and Myles Jack) to hopefully emerge from this crop. The rest of the defensive selections were taken with one task in mind – attack the pocket and get to the quarterback.
First Round – Jalen Ramsey, DB (Florida State, No. 5 overall)
The Jags wasted little time running up to the podium with Ramsey's name on the card handed to the commissioner. Many had figured Ramsey, the best athlete in the draft, would be taken by the Chargers at No. 3 to help ease the loss of Eric Weddle. Ramsey may have slipped past the Chargers and Cowboys due to some minor knee issues and, as it turns out, that injury did pop up during Jacksonville's rookie camp.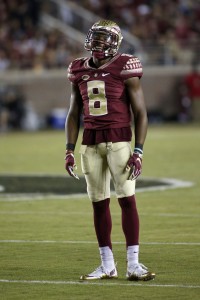 Still, to find Ramsey on the board with the fifth pick was a blessing. The addition of Gipson via veteran free agency will see Ramsey remain a cornerback, at least at the start of his NFL career. He's already listed as their starting right cornerback, leaving former starters Dwayne Gratz and Aaron Colvin as caddies for Ramsey and Davon House. Both former starters will also have to contend for a roster spot, as the team also inked former Giants first rounder, Prince Amukamara, to a one-year deal. Additionally, the team seems enamored with versatile Nick Marshall, a former college passer making the conversion to the secondary.
Second Round – Myles Jack, LB (UCLA, No. 36 overall)
If Jacksonville was fast to get to the podium with the Ramsey card, they were at warp speed when it came to Myles Jack. Medical reports are split on Jack as some say the injured star is 90% ready to contribute while others indicate that he could have a short-lived career due to his knee issues. Perhaps the Jags felt that Jack was just too good to pass up, even if it is for the short term.
If Jack's knee is able to withstand the rigors of NFL life, he could be the team's playmaker at strong-side linebacker. Recent off-field issues for current starter Dan Skuta put the veteran in a precarious situation, but even on his best day, he could not compare to Jack at his worst. Skuta ranked eighth on the team with 40 tackles in 2015 and his 1.5 sacks are easily replaced. Skuta's roster spot could be in further peril, thanks to the drafting of Yannick Ngakoue and Tyrone Holmes (more on them in a bit). Outside of Telvin Smith, look for the linebacker unit to undergo a transformation this year, with middle linebacker Paul Posluszny possibly holding on to that spot one more year before Jack could be asked to shift inside in 2017.
2015 was supposed to be the season that Jack firmly took over the top rung on the 2016 linebacker draft board. A knee injury during practice prior to the Bruins' third game on the 2015 schedule sidelined the versatile performer for the rest of the season. Then, to the surprise of the coaching staff, he became the first underclassman to toss his hat into the 2016 draft pool when he announced at mid-season that he would prefer to play pro ball in 2016.
In three 2015 appearances, he had one interception, three break-ups, and fifteen tackles. He was second on the team with 88 tackles as a full-time linebacker starter in 2014. He also scored three times as a ball carrier that year, a role that earned him Paul Hornung Award (nation's most versatile player) finalist recognition as a freshman. That year, he delivered 75 tackles through eleven starts on defense and rushed for 120 yards and a score on just six carries in 2013.
Jack has good upper body muscle development and room on his frame to carry more bulk, if a team decides to keep him on the defensive line. With his quickness, range and change of direction agility, he is more than capable of playing as a weakside linebacker, but he has the raw power to handle multiple blockers at either the "Mike" or "Sam" positions. He has good arm and chest muscle thickness, along with exceptional leg drive when asked to tote the ball as a running back, good bubble and thick thighs and calves. As his frame continues to develop, he knows how to use his strength efficiently to compensate playing against the larger blockers.
Third Round – Yannick Ngakoue, DE/OLB (Maryland, No. 69 overall)
Sixth Round – Tyrone Holmes, OLB (Montana, No. 181 overall)
Perhaps to hedge their bet in case Jack or Dante Fowler continue to have injury issues, the team continued adding to their suspect pass rushing game. In Maryland's Ngakoue, the hybrid defensive end will be asked to play linebacker for the Jags, but he's also penciled in behind Fowler at right end. He's the Terps' single-season sack record-holder with 13.5 in 2015, breaking a record set by Mark Duda (1982) and Bruce Palmer (1978). Based on that total, he ranked second nationally in sacks/g (1.13), closing out his career tied for fourth in school history in sacks (21.5).
In order to have a successful 4-3 or 3-4 alignment, one of the outside 'backers need to be big and physical. Often called the "Elephant," made popular by the Packers, that athlete is usually relied upon to serve as a primary pass rusher. Depending on the scheme, the Elephant can be on either side of the defensive formation. Strength is crucial, as the Elephant will often be challenged by double-team action from the right tackle and tight end, or having to fend off the cat-quick left tackles to get into the backfield successfully from the edge. More often than not, you will see teams try to convert rush ends to this position.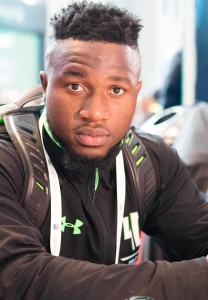 Ngakoue is another possibility, if the rush end can improve his overall speed, but scouts feel that he was just another junior taking a risk entering the draft. There is no doubting his skills as a pass rusher, but he has never been one to grasp the playbook. A move to linebacker at the next level could be stalled by his limitations as an edge rusher.
The same might be said for FCS standout Tyrone Holmes, who lined up with his hand down for the Grizzlies. A small-town kid, he turned down scholarship offers from Pac-12 schools (most notably Washington State) to enroll at Montana. He showed flashes as a sophomore, posting four sacks before tallying 66 tackles and fourteen stops-for- loss as a junior. Named the FCS National Defensive Player of the Year, he amassed eighteen sacks, 24.0 stops behind the line of scrimmage and 87 tackles last season.
Holmes can simply explode off the ball and into the backfield. He has very good body control and hand usage to avoid blocks and work around them to put pressure on the pocket. He has developed an array of moves and can be effective with all of them. He is fluid with his above average redirect ability and has more than enough quickness to pressure the pocket regularly.
One area Holmes has made marked improvement in is flushing out the quarterback and pressuring the pocket. He is strong enough to play off blocks when working inside and can deliver a "knockout blow" on the quarterback when coming off the edge. He has sudden moves to close and his initial step will generally beat the slower blockers off the snap.
With all those hybrid additions, there are only so many roster spots to dole out. If Jack, Ngakoue and Holmes all make the team, if could come at the expense of others. If you toss in Colts castoff Bjoern Werner into the roster discussion, you can see why Skuta, Hayes Pullaerd, Chris Smith and Jared Odrick might want to have the Mayflower Moving Company on speed dial.
Fourth Round – Sheldon Day, DT (Notre Dame, No. 103 overall)
Defensive tackles Tyson Alualu and Sen'Derrick Marks both have starting experience, but unless they "amp up" their overall game, they could eventually be challenged by fourth round find, Notre Dame's Sheldon Day. Day played on the edge last season, making a triumphant return from 2014 knee woes. He led the team in quarterback pressures (13) and his 15.5 stops-for-loss were the most by a Notre Dame player since Derek Landri in 2006 (no Irish player has had more than 15.5 TFLs since Brandon Hoyte in 2005, 16.5). Where he dominated was near the goal-line, ranking second in this draft class by making nine touchdown-saving tackles. He also showed excellent pass defense skills, as just 4-of- 18 passes targeted into his area were completed. As a pass rusher, six of his nine pressures came on the final play during those possessions.
Dave-Te Thomas owns and operates The NFL Draft Report, a service which has provided insight to league scouting departments for over 40 years. All year round, can read Thomas' in-depth reviews of both blue chip prospects and diamonds in the rough by visiting the NFL Draft Report blog. 
Photos courtesy of USA Today Sports Images.
Follow @PFRumors