The old adage that defense wins championships may or may not be true, but you'll be hard-pressed to find a title-winning team that didn't build heavily through the draft. Rookie classes, naturally, are evaluated on the perceived upside of the NFL newcomers, but which rookies are ready to contribute right out of the gate? And, how do they fit in with their new team schematically?
To help us forecast the immediate future of these NFL neophytes, we enlisted the help of draft guru Dave-Te Thomas who has served as a scouting personnel consultant to NFL teams for multiple decades.
Today, we continue PFR's Impact Rookie series with Dave-Te Thomas' insight on the Tennessee Titans' draft class:
First Round – Jack Conklin, OT (Michigan State, No. 8 overall)
It was apparent after last season that the Titans needed to address their lack of depth on defense, but they also had to add speed on offense. Ultimately, Tennessee started the draft by placing a higher priority in protecting their franchise quarterback and opted to build a formidable front line that already featured two first rounders and four starters selected by the team since the 2013 draft phase.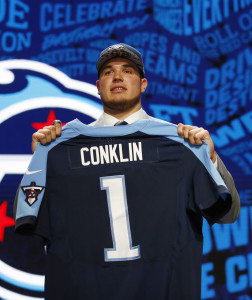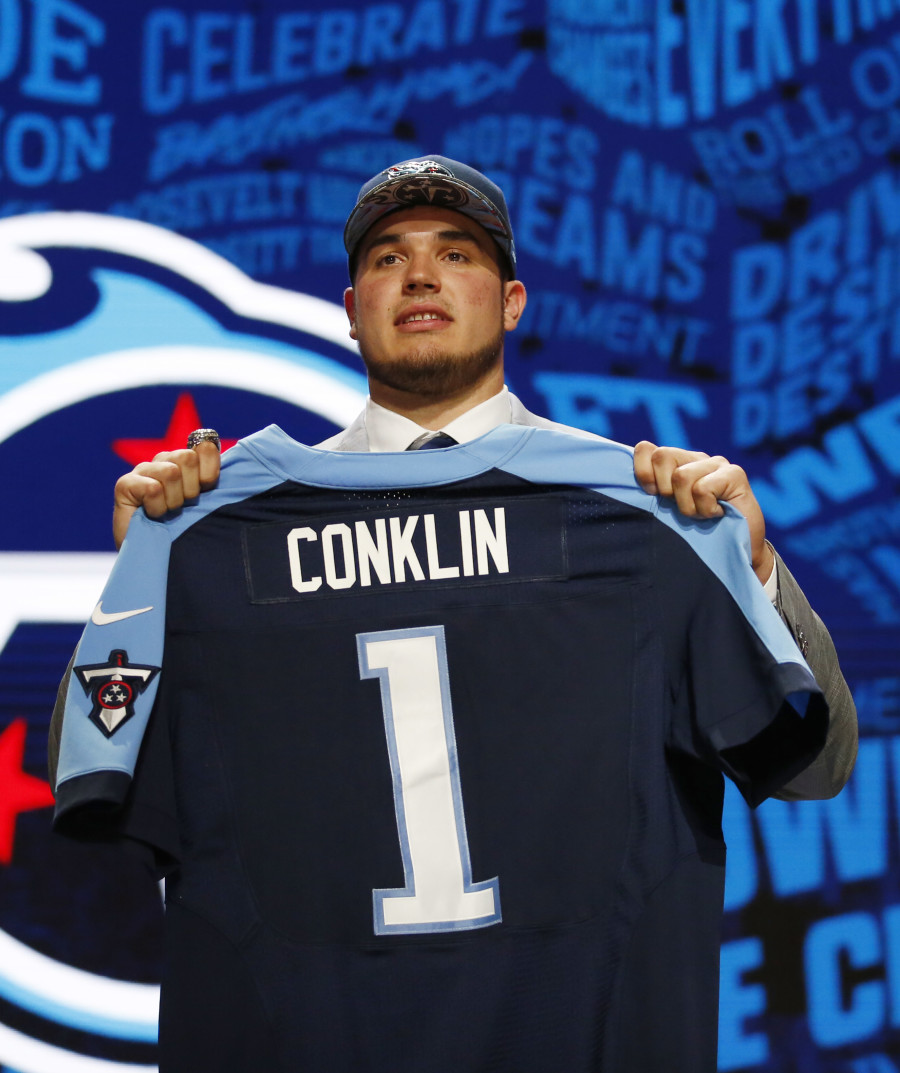 The Titans watched Ole Miss tackle Laremy Tunsil slide down the board, but he wasn't the tackle that they wanted when they traded up from No. 15 to No. 8. When they owned the first overall pick in the draft, many draft experts expected that Tunsil was a shoe-in, but all along the Titans were eyeing either Conklin or Notre Dame standout Ronnie Stanley.
Being a Top Ten choice does not always spell instant success, at least where offensive tackles are concerned. Among the 179 offensive tackles to ever be drafted in the first round, four never even played in any NFL games and seven others never started any contests during their pro careers. Since the 1970 draft, five other first round offensive tackle selections never reached double-digit starting figures.
Still, Conklin's future looks bright and his presence is doubly appreciated following Byron Bell's season-ending ankle injury. His injury leaves the door open for Conklin to immediately step in as the new starter at right tackle, joining 2013 first round right guard Chance Warmack, 2014 first round left tackle Taylor Lewan, 2015 third round left guard Jeremiah Poutasi, and 2013 fourth round center Brian Schwenke up front.
Second Round – Austin Johnson, DT (Penn State, No. 43 overall)
Dick LeBeau is placing more emphasis on the 3-4 game this season and second round pick Kevin Dodd is currently sidelined with a foot injury, which means that the team could experiment with Jurrell Casey playing on the edge and DaQuan Jones on the opposite side. That would leave Johnson to battle Al Woods for time in the middle of the front wall.
The former journalism major graduated from school early and was eligible to compete at the 2016 Senior Bowl, where he put on quite a performance throughout the week-long practices. Johnson ranked second among interior defensive linemen in the major college ranks and finished third overall on his team with 70 tackles. That was the most tackles for a Penn State defensive lineman since Jimmy Kennedy (87) in 2002. He also recorded 6.5 sacks among his fifteen stops behind the line of scrimmage in 2015.
With his thick-cut frame, Johnson can play either the zero-gap or line up as a traditional under-tackle when the team utilizes the 4-3 scheme. He's proven last season that he can be very stout at the point of attack and you have to be impressed with his balance and coordination when attacking the rush lanes, along with his great leg drive and core strength to anchor vs. double teams.
Second Round – Derrick Henry, RB (Alabama, No. 45 overall)
DeMarco Murray is a ball-hungry veteran intent on proving that last season's debacle in Philadelphia was a one-time thing. If Murray looks strong off the bat, it remains to be seen how playing time in the backfield will be divvied up. Murray only had 193 carries (3.6 avg) last season, but he had his best year when he carried the rock for 392 times for Dallas in 2014.
Henry is a one-time starter who needs room to operate and build his acceleration. He will have the benefit of seeing fellow Tide backfield mate, Jalston Fowler, serving as the team's lead blocker out of the backfield, but he will still have to vie for "scraps" that Murray leaves on the table. Further complicating the touches available for Tennessee players is the fact that Bishop Sankey, David Cobb, Dexter McCluster, Antonio Andrews, and David Fluellen will all be fighting for the two available slots behind Murray on the depth chart, though Sankey could be traded. Only time will tell if Henry can be a successful runner in the NFL and the same goes for his opportunity level in 2016.
Third Round – Kevin Byard, FS (Middle Tennessee State, No. 64 overall)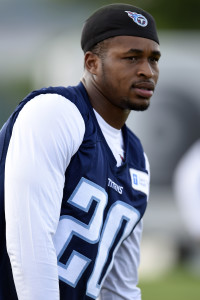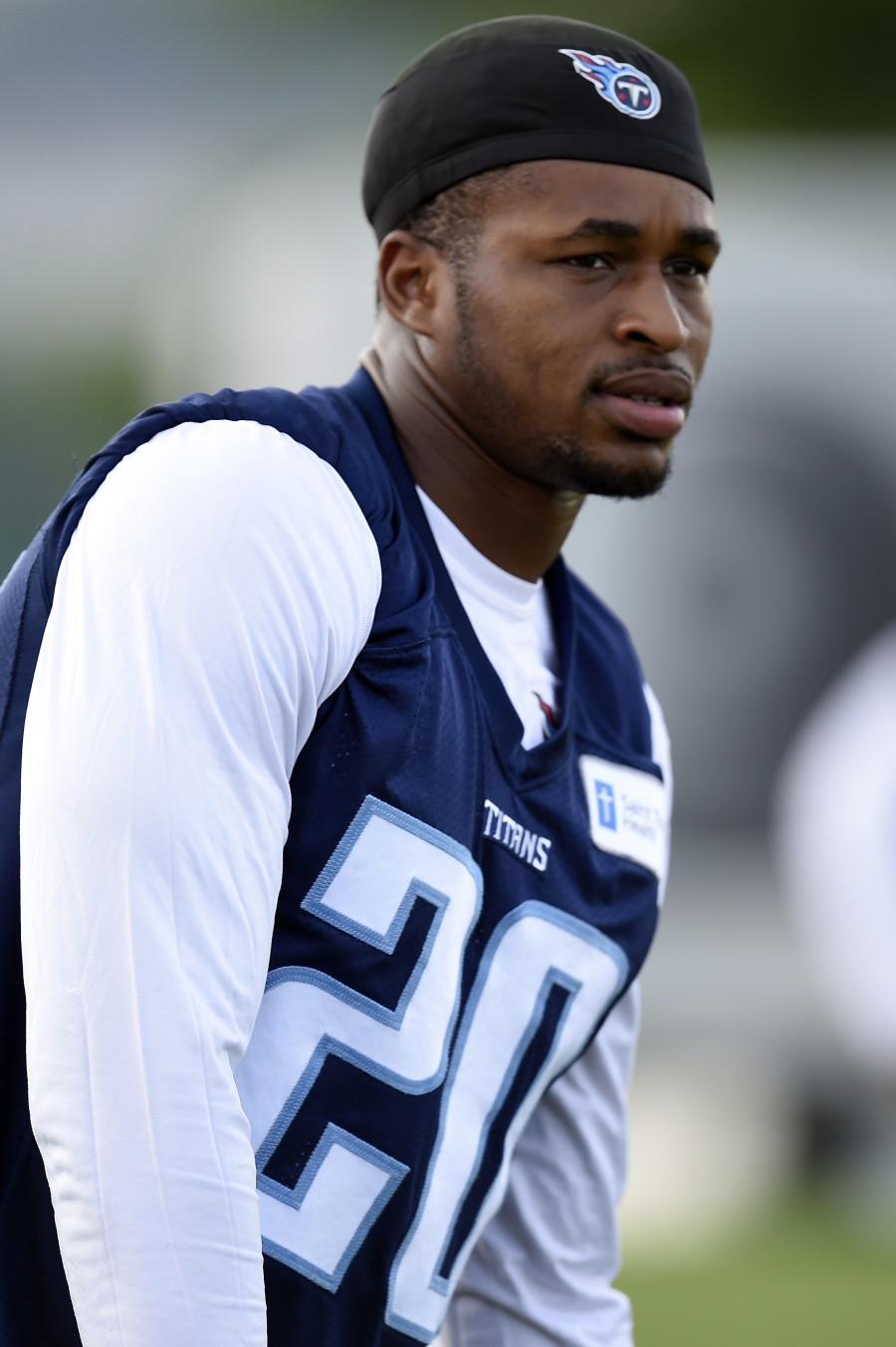 Ever since LeBeau became a coordinator, he has surrounded himself with smart, instinctive safeties. Last year, the Titans made a great move by securing the services of former Bills strong safety Da'Norris Searcy. Now, in Byard, they believe they have a ball-hawk free safety to pair with to Searcy's hard-hitting style. Byard has nineteen interceptions to show for those ball-hawking skills at MTSU, but despite his pedigree and fine performances in practice at the 2016 Senior Bowl, he was not invited to this year's NFL Scouting Combine. The Titans realized what he can offer, as he not only set the school all-time theft mark, but also returned those interceptions for 377 yards and four touchdowns.
Byard's arrival does not mean he will be the instant starter at free safety, which is where Arizona castoff Rashad Johnson resides. His versatility (he played every secondary position in college) will see him be called upon to play the slot corner spot in passing situations and he could also be utilized as a Cover-2 linebacker vs. the run. All that stands in his way for playing time is a challenge from veteran Marqueston Huff, along with Daimion Stafford and Lamarcus Brutus for the two safety spots on the second unit.
Fifth Round – Tajae Sharpe, WR (UMass, No. 140 overall)
To hear Marcus Mariota and the offensive coaches during mini-camp, you'd think that they'd hit the lottery with this fifth round find. Nagging injuries limited the UMass receiver to eleven games last year, but he still pulled in 111 balls, breaking the school season-record. He also holds the career marks with 271 receptions for 3,348 yards. His addition gives Mariota another big, physical possession-type receiver, one with very reliable hands and excellent route-running ability.
Sharpe's arrival could take playing time away from 2015 second rounder Dorial Green-Beckham, who will now compete with aging veteran Harry Douglas for outside receiver chores. Kendall Wright should line up outside on the right side, and Sharpe expected to challenge Miami castoff Rishard Matthews for the slot receiver role. The team plans on keeping five receivers, putting Douglas and 2013 second round pick Justin Hunter on the bubble. Ben Roberts, Tre McBride, Reece Horn and Andrew Turzilli all appear to be "warm bodies" for training camp at this position.
Fifth Round – Sebastian Tretola, OG (Arkansas, No. 193 overall)
Bell's loss also gives Tretotala a great opportunity for playing time. Bell was also projected to serve as the top reserve guard, but that role will likely fall to the former Razorback. What Tretola lacks in athleticism, he makes up for with his high level of aggression, especially in the running game. He should easily steal away playing time from fellow Titans reserve blockers, Josue Matias, Andy Gallik, Quinton Spain, and Nick Ritcher. That quartet holds one distinction: none of them were ever drafted. The Titans also signed Ben Jones away from the Texans, but he was mainly brought in to challenge Schwenke for the center spot.
Dave-Te Thomas owns and operates The NFL Draft Report, a service which has provided insight to league scouting departments for over 40 years. All year round, can read Thomas' in-depth reviews of both blue chip prospects and diamonds in the rough by visiting the NFL Draft Report blog. 
Photos courtesy of USA Today Sports Images.
Follow @PFRumors