The June minicamp is underway, but it is not mandatory for rookie Joey Bosa since he is still not under contract. Bosa's reps have advised him to hold out amid a stalemate in contract negotiations, a source tells Michael Gehlken of U-T San Diego.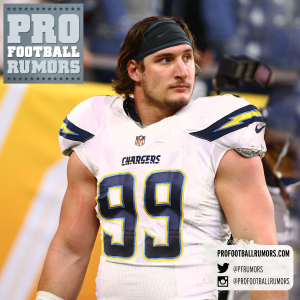 The majority of this year's rookies have already signed their deals, but Bosa's camp wants no offset language in his contract. With no offset language, the Chargers would pay Bosa the balance of his four-year guaranteed contract even if they release him sometime during it. Then, theoretically, Bosa could collect two salaries upon signing elsewhere. With offset language in place, the Chargers would be off the hook for Bosa's salary with his new team, paying him only the difference. The two sides also are in disagreement about the deal's cash flow.
The most recent collective bargaining agreement has largely made rookie contract disputes a thing of the past, but there are still instances where teams and players will clash over offset language. Last year, the Titans did not sign No. 2 overall pick Marcus Mariota until July after extended haggling.
The Ohio State product was widely projected to be a top 10 pick in this year's draft, but few pundits saw the Chargers pouncing on him at No. 3. While teams traded into the top 2 picks to select quarterbacks, the Bolts were more than happy to stay put and grab Bosa.
Follow @PFRumors