Panthers defensive tackle Kawann Short, who is entering the final year of his four-year rookie contract, made the decision to skip the team's OTAs when he and the club put their long-term extension talks on hold at the end of May. Short did appear for the team's mandatory minicamp–he could have been fined over $76K had he not done so–and he immediately re-assumed his spot in the defensive line rotation.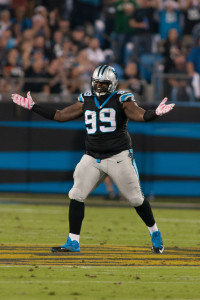 However, Short declined to comment on his contract situation upon his return to the team, and there have been no reports suggesting that the stalled contract talks have been rekindled, which would seem to cast into doubt earlier predictions that the two sides would hammer out a new deal prior to the start of the 2016 season. But as Joseph Person of The Charlotte Observer writes, the Panthers continue to talk with Short and his agent, Joel Seagal, thereby suggesting that a deal could still get done in fairly short order.
Of course, the massive contract that Fletcher Cox just inked with the Eagles has thrown a wrench into Carolina's negotiations with Short. Philadelphia gave Cox a six-year, $103MM extension (with $63MM guaranteed), and we recently heard that the Panthers were not bullish enough on Short to give him Cox-type money. Indeed, reports have indicated that Carolina GM Dave Gettleman wants to give Short a contract with an average annual value of no more than $15MM.
And that's certainly understandable, as 2015 was the first time that Short produced at an elite level. But in last season's breakout performance, the Purdue product racked up 11 sacks to go along with 55 tackles, three forced fumbles, and a pair of fumble recoveries on his way to his first Pro Bowl bid, and he also added two more sacks and a forced fumble in the postseason. Plus, at age 27, there is no reason to think that the breakout was a fluke; rather, it simply appeared to be a case of a high-ceiling player realizing his vast potential as part of a tremendous defensive front.
In any event, Person suggests that, since dialogue between the two sides is still ongoing, these negotiations are on a more promising course than the Josh Norman situation, in which there was no give-and-take between team and player. There is still a gap to bridge, but the continued conversations indicate that Short may receive his big payday within the next couple of months (it just won't be as big as Cox's was).
Photo courtesy of USA Today Sports Images
Follow @PFRumors