NFL commissioner Roger Goodell received $32MM in compensation for the 2015 season, according to Daniel Kaplan of SportsBusiness Journal (all Twitter links). The league has since relinquished its tax-exempt status, so this will be the final time the public gets a glimpse of Goodell's salary.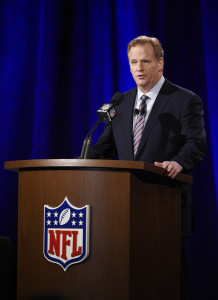 Goodell received a slight pay decrease from the 2014 season, when he was paid $34.1MM. During that '14 campaign, Goodell dealt with – and arguably botched – a pair of off-field incidents involving running backs Ray Rice and Adrian Peterson, but as Kaplan points out, the league didn't seem to hold those instances — nor his handling of Deflategate — against the commissioner, lowering his salary by only ~$2MM.
All in all, it seems as though the league's owners are still quite pleased with Goodell's performance, as his pay hasn't taken a huge hit over the years despite his negative public perception. But there's no doubt his compensation has dropped from the heights of 2013, when Goodell reportedly earned $44MM. During his ten-year run as commissioner, Goodell has now raked in more than $212MM in earnings.
Previous reports had indicated that 2014 would be the final instance of the public being privy to Goodell's salary, but Kaplan adds (Twitter link) that the NFL had a stub period between the last filing and present, thus the league was forced to issue one last filing.
Photo courtesy of USA Today Sports Images.
Follow @PFRumors