WEDNESDAY, 5:04pm: Smith's deal actually appears to be worth more than initially reported, with Aaron Wilson of the Houston Chronicle noting (on Twitter) the fifth-year safety's pact totals $56.53MM. The deal contains $28.58MM in guarantees, per Wilson. The contract is slated to slot Harrison on the Vikings' next five salary caps at $7.28MM in 2017, $7.5MM in '18, $10MM in '19, $10.75MM in '20 and $10.25MM in '21, Matt Vensel of the Minneapolis Star Tribune reports (on Twitter). Only $500K is fully guaranteed to the now-27-year-old Smith on the third day of the 2019 league year, Vensel tweets.
MONDAY, 8:00am: The Vikings have signed safety Harrison Smith to a long-term extension, the club announced today. It's a five-year deal worth $51.25MM, according to Andrew Krammer of 1500 ESPN (Twitter link), and the pact includes includes a $10MM signing bonus and $15.27MM fully guaranteed, per Adam Schefter of ESPN.com (Twitter link). With five years added to his present deal, Smith is now under contract for another six years on a deal that should keep him in Minnesota through the 2021 season.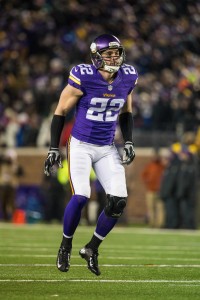 Smith, who earned his first Pro Bowl nod in 2015, will earn a base salary of $5.278MM in 2016 before his significant pay raise kicks in. With an average annual value above $10MM, the Vikings are paying Smith more than any other safety, putting him ahead of names like Jairus Byrd, Devin McCourty, and Earl Thomas.
The deal's full guarantee of $15MM+ puts him in the middle of that pack for safeties, beating out Thomas' $14.225MM true guarantee but falling short of McCourty's $22MM and Byrd's $18.3MM. In terms of total value and AAV, however, we have ourselves a new highest-paid safety in the NFL.
Referring to Smith as one of the "better safeties" in the NFL earlier this year, Vikings GM Rick Spielman acknowledged with a chuckle that calling him one of the "best" might increase his price. Pro Football Focus, at least, viewed the 27-year-old as the league's best safety in 2015, ranking him atop the site's list of 88 qualified players at the position, despite the fact that he only played 13 games. Among safeties, Smith ranked in PFF's top 10 in terms of pass coverage, run defense, and pass rush grades. NFL executive Randall Liu (on Twitter) notes that Smith is only NFL player since 2012 with 300+ tackles (311), 5+ sacks (5.5), 10+ interceptions (12), and a 4+ interception/touchdown ratio.
It will be interesting to see how Smith's new contract impacts contract talks in Miami between the Dolphins and safety Reshad Jones. Jones is reportedly mulling a season-long holdout if he does not get a new deal that puts him in the same class as Smith and the rest of the ~$10MM club. Jones had a career-year in 2015, compiling career-highs in tackles (135), passes defended (10), and interceptions (five). At the same time, strong safeties generally don't get paid the way that free safeties do. Tyrann Mathieu and Eric Berry also surely took notice of Smith's new deal this morning. New deals for either one of those players could strip the "highest-paid safety" mantle away from the Vikings star.
Photo courtesy of USA Today Sports Images.
Follow @PFRumors