In late April, Dolphins defensive end Dion Jordan became eligible for reinstatement. In June, Jordan's team finally filled out the paperwork to get the ball rolling on his NFL return. Now, we're in mid-July, and the Dolphins still haven't heard from the league office on the status of the former first-round pick, Barry Jackson of The Miami Herald writes.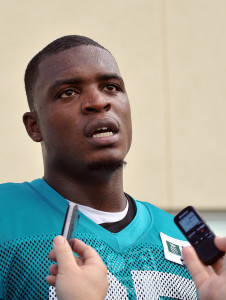 A friend of Jordan's told Jackson that Jordan is "doing great," and that "when he is reinstated, you will see a brand new Dion." If that account is to be believed, then the holdup in Jordan's reinstatement isn't to be blamed on the player himself. Jordan, in theory, could be in limbo because many league executives are on vacation during the month of July. However, as Jackson notes, the league office has meted and mitigated punishments for other NFL players in recent weeks.
Jordan is slated to earn $600K in base salary and is due a $1.69MM signing bonus if he's on the roster on the fifth day of training camp. If he is allowed back by the NFL, the Dolphins could keep Jordan at his original defensive end position or they could shift him to linebacker. Even though Miami boasts depth at defensive end, bookend still might be the way to go for this year since there would be a steep learning curve in changing positions after spending a year away from the team.
In theory, the Dolphins could drop Jordan before his roster bonus is due. Miami could also try and work Jordan's bonus down before it kicks in. Of course, there will be nothing for Miami and Jordan's camp to discuss if he is not permitted to play football in 2016.
Photo courtesy of USA Today Sports Images.
Follow @PFRumors