The old adage that defense wins championships may or may not be true, but you'll be hard-pressed to find a title-winning team that didn't build heavily through the draft. Rookie classes, naturally, are evaluated on the perceived upside of the NFL newcomers, but which rookies are ready to contribute right out of the gate? And, how do they fit in with their new team schematically?
To help us forecast the immediate future of these NFL neophytes, we enlisted the help of draft guru Dave-Te Thomas who has served as a scouting personnel consultant to NFL teams for multiple decades.
Today, we continue PFR's Impact Rookie series with his insight on the Kansas City Chiefs' draft class:
It was far from exciting for Kansas City fans when the Chiefs introduced their cache from the recent NFL Draft. While some fans recognized the need to improve the pass protection up front after KC quarterbacks were sacked 46 times last year (tied for sixth worst in the league), rather than bulking up the offensive line, they first cut guard Ben Grubbs, let right tackle Jeff Allen sign a four-year deal with Houston, and then traded away the No. 28 pick to San Francisco, only to see the 49ers take one of the better guard prospects available – Stanford's Josh Garnett. While the fans were clamoring for a big body in the first round, Kansas City did manage to secure from the 49ers their second round pick (No. 37 overall), a fourth round choice (No. 105), and a sixth round selection (No. 178 through Dallas) in this year's draft during the exchange.
So what does KC have in Jones and the rest of its 2016 rookie class? Let's dive in:
Second Round – Chris Jones, DE/DT (Mississippi State, No. 37 overall)
Several teams had Jones pegged as a late first round prospect, but the Chiefs see him as a capable edge rusher with the ability to slide inside when they go to a four-man front. Still, other teams felt that the junior would have been better served remaining in school and continuing his development for another year. In 2014, he posted 26 tackles, but just 3.5 of those stops came from behind the line of scrimmage. He shifted from the weak-side to strong-side tackle last season, picking up second-team All-American honors after he delivered 44 tackles, 2.5 sacks and 7.5 stops-for-loss.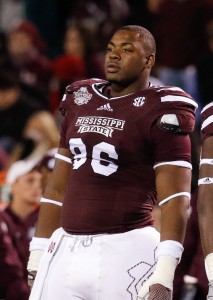 Jones might not have those eye-catching numbers you expect from an elite prospect, but even with 5.5 sacks combined his last two seasons, the Chiefs felt that he was further along than most of the defensive linemen still left in the draft. They realize that he needs refinement and lacks an array of pass rush moves, but he uses his hands exceptionally well to rip and swim. With his balance, he demonstrates the ability to execute an effective spin move, despite the fact that he tends to get high in his stance (he has a good center of gravity, though).
On film, you see that Jones' high motor allows him to close in on a ball carrier quickly. Has a lot of range, makes a good portion of his tackles outside the box. With his balance, he gets out in space well, looking like an oversized linebacker. He's quite light on his feet when he has to be, and you can see that he has that wiggle in his hips needed to make the last second moves to avoid the brunt of a blocker's punch. When he keeps a low pad level, he generates much better explosion off the snap, but when he fails to deliver on his initial move, his feet stop and his arms get a little out of control at the point of attack, which allows blockers to get a piece of his jersey.
Still, for a player his size, he does a nice job of fitting into tight spaces. I doubt if he will ever be regarded as a pass rusher, as he is more suited in being a one-gap type of penetrator that can alter the lane of a running back. He must be conscious of low blocks though and has to do a better job of recognizing double teams, as failure to do so will result in Jones being driven back by that strong double team duo. In one-on-one battles, it is a completely different story, as the Bulldog uses his long arms and powerful hands to make it very difficult for a blocker to lock on to him, especially when he shows confidence in the power he delivers out his hands and arms.
Continue reading about the Chiefs' rookie class..
Fourth Round – Parker Ehringer, G/T (Cincinnati, No. 105 overall)
Ehringer will welcome a return home with the Chiefs, as he was forced to play out of position at left tackle for the Bearcats last season. With Jeff Allen leaving for the Texans and Zach Fulton, a 2014 sixth-round find, having big issues in pass protection last year, Ehringer will enter camp penciled in as the team's starting left guard. Gone from the roster is former Pro Bowler, Ben Grubbs, as the team parted ways with the veteran after the 2015 season that saw Kansas City allow 46 sacks, the sixth-worst figure in the NFL.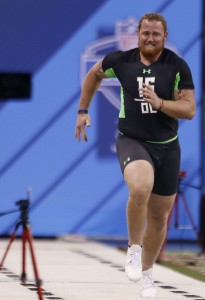 Ehinger is a very smart and physical football player who excels in the run game. He shows good awareness to identify targets when climbing to the second level and does an excellent job moving his feet to sustain as a run-blocker. Where he has shown the most improvement during his junior season was in pass protection, where he did a great job of staying patient in his sets and shuffling his feet as an offensive guard.
Even though the Bearcats utilize the spread and West Coast style offense, the require that their offensive linemen be very physical in their inside run game, and Ehinger gives them flexibility at right guard and both tackle positions, something his NFL team will greatly appreciate, as his versatility will give some pro team good depth, whether inside or out.
Ehinger has average top-end speed, but offers a nice blend of height, weight and power for an offensive guard prospect. Since arriving at Cincinnati, he has added good weight and gotten much stronger during collegiate career. Even with the position shifts (played both guard and tackle every year, mostly on the right side), he has stayed positive and gained valuable playing time in that variety of roles.
While Ehinger is never going to win a foot race vs. Usain Bolt, his initial quickness as a guard is better than average, but as a tackle, there are times where he can get beat off the snap when his footwork isn't sound. You can see on film that the Bearcat possesses large and quick hands in his sets and he can get into the defenders' pads and lock on with ease. He also shows very good ability to shuffle and mirror to stay in front of pass rushers once engaged.
At tackle, Ehinger can get caught lunging at times, which can make him vulnerable to quicker exterior rushers. Still, he does not panic when getting knocked off balance initially and flashes that innate ability to recover and get back into position. He can sink and anchor to neutralize the bull rush attempt with tremendous force as a guard. In run blocking assignments, he demonstrates the ability to create a sound, initial fit more times than not and can wall off his assignments consistently. He displays quick and compact hands to lock on to defenders. He drives his legs once in position and flashes the ability to drive defenders when he stays low to generate leverage.
Ehinger has an elite inline power base that allows him to overcome stunts and bull rushers while getting excellent movement when his pads do not rise up. He shuffles his feet well upon contact, especially when he stays engaged with blocks and is very effective at playing under control. He takes good angles in space or when climbing to the second level and also displays the ability to adjust on the move to cover up targets in space.
What separates this "man from the boys" is that Ehinger possesses above-average instincts and football I.Q. and while most youngsters are more instinctive as a run blocker than in pass protection at this point, he is generally assignment sound in the run game. You can see that he locates targets at the pre-snap and executes assignments with impressive consistency. He also does a nice job of identifying targets at the second and third level on the move. He constantly keeps his head on a swivel in pass protection. As an offensive tackle, he can be step late getting into position when picking up pressures from the second and third level, but he has the balance and lateral agility to recover.
The former track weight man appears to have above average upper body strength (reports claim he can bench press 225 pounds 32 times) and he plays with that tenacious edge you want in a mauler, as he can deliver the big block when he catches defenders off guard and has become a determined finisher at the point of attack. Simply put, you will never, ever see Ehinger back down from challenges.
Seventh Round – Dadi Nicolas, OLB/DE (Virginia Tech, No. 203 overall)
The Chiefs may have found an impact player for their defense with their final draft pick. Nicolas had a trying senior season, but bounced back with a very impressive week down in Mobile, Alabama during Senior Bowl practices. Injuries forced the 235-pounder to play defensive tackle and end for the Hokies last year and the weight mismatch was evident, as his tackle-for-loss figures dipped to seven and his quarterback pressures were reduced to five.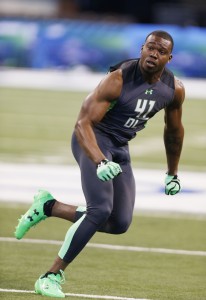 Nicolas was coming off a 2014 campaign that saw the then rush end/outside linebacker record nine sacks, 27 stops behind the line of scrimmage and an ACC-record 40 QB pressures that led the nation. Then the coaching staff made a very puzzling move and Nicolas would manage only three sacks in 2015. He did close out the year saving the final victory for head coach Frank Beamer's career. With Tech leading the Independence Bowl with a 55-52 score, Nicolas recorded two sacks during Tulsa's last-ditch drive, including an eight-yarder on a fourth-down snap to let the Hokies run off the final minute on the clock.
The 2014 season saw Nicolas' draft stock rise to the second round level, yet, he opted to return to school for his final year. He managed 45 tackles with seven stops for loss and five QB pressures in 2015. Still, nineteen of his stops came on third-down snaps, including thirteen vs. the ground game. Five of those hits were touchdown-saving tackles. Nine stops came on goal-line snaps and on 49 running plays directed at him, runners managed only 11 yards during his senior season.
Faced with a potential drop in his draft stock, Nicolas ventured to Mobile, Alabama for the 2016 Senior Bowl. Hoping to play outside linebacker and show NFL teams his ability to play there, he was relegated to rush end duties. He opened eyes in the weight room, measuring in with the third-longest wing span (82 inches) for any of the 114 players that checked in. He also impressed with his "Mitts" that measured 10 ½-inches.
On the field at the Senior Bowl, Nicolas stood tall. Despite matching up with South squad linemen that outweighed him by as much as one hundred pounds, when scouts started naming top performers for the week, Nicolas drew as much notice as any South defender not named Noah Spence. Now, he might be a very important piece for the Chiefs linebacker unit. Knee problems could see star left outside linebacker Justin Houston sitting out the early part of season, if he continues to have issues in recovery. The team is also facing another possible loss, as right outside linebacker Dee Ford came up with his own knee problems during minicamp.
Nicolas has excellent explosiveness coming off the snap. He shows fluid change of direction agility that is evident in his above average range. He maintains balance working down the line and has the hip flexibility to come of his backpedal and drop back in the zone sharply. He has superb leaping ability and plays with good strength. He can chase the ball down from sideline-to-sideline and utilizes his leaping skills to be disruptive going up or knocking down the ball. His lateral range allows him to flow to the ball with great ease of movement. He stays on his feet working through trash and has the quickness to suddenly close on the ball.
Yes, he is an undersized defensive end and is a better fit for linebacker, due to size issues. The "Will" is a perfect position for the way he plays, as he operates better on the move. He is comfortable making plays in pursuit vs. the run (held the opposition to minus 59 yards on 167 rushing attempts directed at him during his career) and coming off the edge, he generates good heat to pressure the pocket. He has good quickness and keeps his feet on the move, showing the agility and balance in his running stride. He has valid change of direction agility and flexibility, along with good acceleration to close. He has loose hips and runs faster than his timed speed. He has good upper body strength and leg drive. He looks a little stiff in space, but has a good closing burst.
No matter whether he had to battle offensive linemen in the trenches or allowed to "play his game" by moving downhill, Nicolas showed a good nose for the running plays. On 49 plays directed at him, he held runners to 11 yards, making seven stops for loss while impressing with fourteen more hits that leveled runners at the line of scrimmage for no gain. Nicolas shows no hesitation working in-line in attempts to clog the rush lanes, but is susceptible to low blocks, despite having the long wingspan to protect his legs.
As a left defensive end last year, Nicolas was not as productive vs. the inside ruin as he was in the past – when he avoided blocks rather than trying to take on the bigger blockers. He can make plays on the move and shows the burst to close and make plays taking on the fullback. He is quick to read the inside run and step up to take on the offensive lineman or lead back, but lacks the bulk to consistently stack. He has shown improvement staying lower in his pads, as when he got too high in his stance in the past, he did not square up when taking on blocks.
The former Tech star shows good pursuit quickness to the outside and is able to run and work through and around trash. He has the chase speed and takes proper angles to cut off the runner on the outside. He has the balance to keep containment and string plays out, but he must be more alert to side blocks, as he can get latched on to and washed out of the play, especially when his hands get outside his frame. He could have a bright NFL future ahead of him as well as an opportunity-laden NFL present.
Dave-Te Thomas owns and operates The NFL Draft Report, a service providing insight to league scouting departments for over 40 years. All year round, you can read Thomas' in-depth reviews of both blue chip prospects and diamonds in the rough by visiting the NFL Draft Report blog.
Photos courtesy of USA Today Sports Images.
Follow @PFRumors