The old adage that defense wins championships may or may not be true, but you'll be hard-pressed to find a title-winning team that didn't build heavily through the draft. Rookie classes, naturally, are evaluated on the perceived upside of the NFL newcomers, but which rookies are ready to contribute right out of the gate? And, how do they fit in with their new team schematically?
To help us forecast the immediate future of these NFL neophytes, we enlisted the help of draft guru Dave-Te Thomas who has served as a scouting personnel consultant to NFL teams for multiple decades.
Today, we continue PFR's Impact Rookie series with his insight on the New York Jets' draft class:
It has been a strange off-season for the Jets, as they seem to be taking a disregard to their recent past, holding the contract line firmly on 2015 starting quarterback Ryan Fitzpatrick and one of the best defensive linemen in the game in Muhammad Wilkerson. They failed to impress with their "temporary" solution to the Fitzpatrick stand-off by using their second-round draft pick to snatch Penn State erratic signal-caller, Christian Hackenberg.
Even if Fitzpatrick had signed, the Jets were going to look at addressing their future at quarterback anyway, as their starter in 2015 has had a journeyman's like career to date. Still, they fail to impress Jets fans with the addition of Hackenberg, if it means that Fitzpatrick will turn into a training camp stalemate. They can't be serious about turning the reins over to Geno Smith, could they?
Offensive coordinator Chan Gailey has been talking up Smith, citing his maturity, but his obvious lack of leadership skills (see last season's locker room debacle) and marginal performances to date makes Jets faithful hope that Gailey can create magic in the huddle this season. One option not talked about often is the development of 2015 third round pick, Bryce Petty. Still, like Hackenberg, he is still unproven at the professional level, leaving the Jets to ponder if they want to risk a season as a playoff observer or come to some kind of solution with the Fitzpatrick situation.
While the Jets did not address their quarterback situation in the way that many fans would have liked, they did pick up some interesting talents at other positions in this year's draft.
First Round – Darron Lee, LB (Ohio State, No. 20 overall)
It is not etched in stone where Lee will line up for the Jets, but hailed by The NFL Draft Report the "best defensive playmaker in the 2016 draft," the Jets are certain to find a role quickly for their first round pick. For now, he's listed behind Erin Henderson at right inside linebacker. Beyond that, veteran and inside starter David Harris might be looking for employment elsewhere in 2017, if Lee progresses as quickly as expected.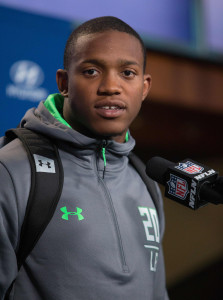 Henderson moves into the lineup, at least temporarily, after the Jets let Demario Davis leave in free agency despite finishing second on the team with 90 tackles last year. Still, it will not be long before he cedes playing time to Lee. Another player greatly affected by Lee's arrival is San Francisco cast-off, Bruce Carter, who was brought in to play the nickel package. With Lee's cornerback-like speed, Carter will have to sit while Lee performs in that alignment.
Some draft analysts stated that Lee was a "work in progress" and "did not excite" in 2015 like he did in 2014 during the Buckeyes' national championship march. Unknown to many scouts, at the time, but Lee was playing with a lower leg injury during the first half of his sophomore campaign. With several Buckeyes suspended earlier in the year, the strong-side linebacker felt that even on one leg, he needed to be out on the field.
Lee recovered just in time – for the late season tough part of the schedule. He recorded at least seven tackles with one stop behind the line of scrimmage and one quarterback pressure in each of his final four appearances. While he delivered 66 tackles (36 solos) for his final season at Ohio State, it is how he compiled those statistics that were even more impressive.
On 53 plays he made vs. the running game, Lee limited his opponents to an average gain of a minuscule 0.68 yards per attempt. The longest gain vs. the linebacker was a 9-yard scamper. He delivered eleven crunching third-down stops and another on a fourth-down play vs. those ball carriers, posting fourteen of those tackles inside the red zone, including four on goal-line stands. In addition to taking down thirteen runners for losses, ten more were tackled at the line of scrimmage for no gain. He also made five touchdown-saving tackles after runners broke free from other Ohio State defenders in 2015.
Third Round – Jordan Jenkins, OLB (Georgia, No. 83 overall)
The Jets parted ways with Calvin Pace and in their revised 3-4 alignment, they currently have 2014 seventh round pick Trevor Reilly stationed at left outside linebacker. That is, until Jenkins reports to camp and shows that he is NFL-ready. For Jenkins, this marked the tenth player from his university to be drafted by the New York Jets since they first selected Phil Sullivan in 1972. The last Georgia player drafted by the Jets before Jenkins was Jamie Henderson in the 2001 draft. The Bulldogs have sent 29 linebackers to the NFL, with Jenkins being the fifth taken in the third round. From that group, twenty-two of those draftees went on to suit up in the professional ranks.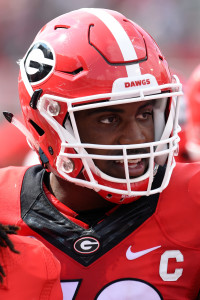 Jenkins makes some very big hits on the move and while he might not have the bulk to hold his ground vs. the larger blockers, he is superb in working on stunts and getting through the gaps. His edge rush ability allows him to reduce the pocket and he has shown the acceleration needed to come off the edge and get to the quarterback. He has good burst in his pass rush and can generate consistent pressure on the pocket. In a scheme that will allow him to stunt and play uncontested off the edge, some team could find a difference maker here.
Despite playing part of his senior season nursing a groin injury, Jenkins established himself as a force vs. the run. He moved into fourth place on the school career-record list with forty tackles behind the line of scrimmage, joining fellow Georgia linebackers David Pollack (58.5; 2001-04), Quentin Moses (44.5; 2003-06) and Jarvis Jones (44.0; 2011-12) as the only players in Bulldog annals to register at least forty tackles-for- loss. Ironically, that quartet all performed at the "Jack" position.
In the Georgia scheme, the "Jack" is a hybrid – part defensive end and part rush linebacker. The "Jack" is usually asked to serve as the team's primary pass rush specialist, but he is also assigned additional duties in passing situations. The reason the staff preferred to use Jenkins at that position was his keen understanding of the defense. At close to 260 pounds, he had enough bulk, combined with functional strength, to play with his hand down at the line of scrimmage.
With his lateral agility and change of direction skills, he easily played a bit off the line to generate an explosive burst coming off the edge, where he recorded nineteen quarterback sacks and a very impressive 82 pressures through 52 contests. Jenkins was often leading the charge in run support, evident by his forty tackles behind the line of scrimmage as a Bulldog. He showed the ability to also handle strong-side and weak-side linebacker duties – either lining up over the tight end to cover in the short area, or taking on the lead blocker or off-centered fullback from the "will" position.
Fifth Round – Brandon Shell, OT (South Carolina, No. 158 overall)
The Jets hope that the 6:05, 324-pound left tackle can quickly transition back to the right side, where he played in 2014, despite performing with a shoulder injury that required surgery, keeping him out of 2015 offseason camps. He comes into the league having started his last 47 appearances, including playing on the left side last year. He posted 92 knockdowns and ten touchdown-resulting blocks, making his great-uncle, Hall of Famer Art Shell, proud of the family bloodlines.
Shell is not ready to challenge for a starting job, but he could be thrown to the wolves, thanks to the Jets' lack of depth at the tackle positions. Long-time starting left tackle D'Brickashaw Ferguson is sitting at home feeding the kids while enjoying retirement. The Jets replaced the veteran with Denver's Ryan Clady on the left side, but he's been a medical risk the last several years. Their right tackle, Breno Giacomini, was the biggest liability on the front wall last year, but with salaries of $5.125MM the next two years, the team will take a cap hit if they cut him loose before the season opener. If Clady fails to stay healthy, the Jets will be on the books for a salary guarantee of only $1.5MM.
The Jets had made a valiant effort to trade up when Mississippi's Laremy Tunsil began his draft-day slide, but could not find a willing trade partner before division rivals, Miami, stepped in to end Tunsil's most trying day. While right guard Brian Winters has collegiate experience at tackle, he's also fighting to even remain on the roster this year. The rest of the Jets' backups are unknown types like Jesse Davis, Ben Ijalana, and Brent Qvale, making Shell's path to an NFL job all the more easier.
For a player his size, Shell has decent quickness, but he needs to show better agility, balance, flexibility and change of direction skills. He has the frame and hand punch to win stationary battles, making him a better fit working in combination with other blockers on the right side, rather than be placed on an island and be challenged by the speedy edge rushers on the left side. He shows good weight distribution on the move and his trap blocking could see him earn a few reps inside as a guard while developing pro tackle skills.
Shell allowed just 1.5 sacks last year and knows how to use his broad shoulders and body lean to stall the pass rush. He has the arm length to make reach blocks, but he does get a bit lazy when blocking in-line, as his feet fail to show urgency when he has to move laterally. His inability to bend at the knees will always be an issue, if he has to take on speedy edge rushers, but he has that wide base, big body and jolting hand punch to easily beat out the motley crew of back-ups the Jets have assembled for their front wall.
Jalin Marshall, WR/KR (Ohio State, Undrafted Rookie Free Agent)
If the Jets decide to keep five receivers, I'd expect Gang Green to have Brandon Marshall, Eric Decker, Devin Smith (if healthy) and Quincy Enunwa in the top four spots. That leaves seventh-round pick, Charone Peake, Patriots castoff Kenbrell Thompkins, Jeremy Ross, Robbie Anderson, Kyle Williams, and Chandler Worthy to battle for the final opening. While Marshall is still a neophyte as a receiver, he will greatly impact a return game, as the Jets ranked 15th in the NFL in punt returns (8.6 average) and 26th in kickoff returns (20.8 average) last season.
You see it every year in training camp – teams filled with nondescript youngsters that were bypassed in the draft, trying to catch even the slightest glimpse from a position coach during practices. They often share a locker stall, or try to find a few inches on the floor to store their gear safely, hoping that what they show during the summer weeks would earn them their own locker with a name tag come September. When it comes to filling out a 53-man roster, most teams look for their rookies to have some ability to play in a variety of roles. For a skill position player, you look for someone who can not only perform at his assigned position, but to also be capable of filling a few spots for the special team units. For the "bigger guys," you want them to be able to fill in at a variety of positions on the offensive or defensive front walls.
The New York Jets could be faced with a pleasant dilemma when they reduce their current 90-player roster down to the 53-man limit for the 2016 season opener. One of those that could force his way into the locker room is a Buckeye with limited experience at receiver, but also one with a "bag of tricks" to be able to fill a variety of roles for the squad. Marshall is a gifted athlete who can make a real impact at the next level, if given the chance.
Dave-Te Thomas owns and operates The NFL Draft Report, a service which has provided insight to league scouting departments for over 40 years. All year round, you can read Thomas' in-depth reviews of both blue chip prospects and diamonds in the rough by visiting the NFL Draft Report blog. 
Photos courtesy of USA Today Sports Images.
Follow @PFRumors