The old adage that defense wins championships may or may not be true, but you'll be hard-pressed to find a title-winning team that didn't build heavily through the draft. Rookie classes, naturally, are evaluated on the perceived upside of the NFL newcomers, but which rookies are ready to contribute right out of the gate? And, how do they fit in with their new team schematically?
To help us forecast the immediate future of these NFL neophytes, we enlisted the help of draft guru Dave-Te Thomas who has served as a scouting personnel consultant to NFL teams for multiple decades.
Today, we continue PFR's Impact Rookie series with his insight on the Pittsburgh Steelers' draft class:
For the first time since the 2011 draft, the Steelers went home with just seven new players from the 2016 phase. From 2011 through 2015, the Steelers went home with a total of 42 players, averaging 8.4 players in each class. That cache of talent has not produced much talent, roster-wise, as only eleven remain as projected starters and eight more in reserve roles.
With the loss of rising star, Kelvin Beachum, it was their left offensive tackle position that appeared to be the team's primary need entering the 2016 draft, but they waited until the fourth round to bring in some fresh legs at that position. Rather, the team concentrated on the defense's most glaring weakness – the secondary.
The current coaching staff knew that if they expected to get deep into the playoffs, they needed to drastically overhaul that unit. Pittsburgh finished with the third-worst numbers in the league last year, allowing 271.9 aerial yards per game, tying for 12th-worst by yielding 29 touchdowns. They allowed 52 receptions for at least twenty yards and twelve for forty yards or longer, but did tie for sixth in the NFL with seventeen interceptions.
That lack of performance in the defensive backfield was further highlighted by all the yellow flags that unit incurred, as the Steelers were called for 121 penalties on defense, the fourth-highest total in the league. They finished 21st in the nation in total defense (363.1 ypg) due to the secondary problems, negating a solid effort by their "front seven" that held opponents to 91.2 yards per game rushing (fifth lowest in the NFL) and only six touchdown runs (third lowest).
First Round – Artie Burns, CB (Miami, No. 25 overall)
It was a bit of a surprise to see Burns end up with the Steelers in the opening round. Many analysts figured that the team would take a lineman on either side of the ball. But, when the blue chip left tackles were all gone at No. 25, they decided that Texas A&M's Germain Ifedi was not a left tackle worthy of being taken with their first pick. They also turned their attention away from UCLA's Kenny Clark, allowing the Packers to scoop up the best interior defender left on the draft board two picks later.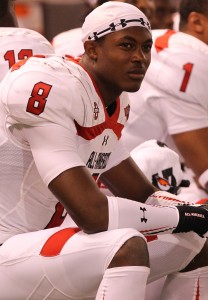 There sat Burns and Clemson's Mackensie Alexander when Pittsburgh had to make a decision. Speed could not have been a factor, as both players were timed at 4.46 in the 40-yard-dash. It was not an obvious display of raw power that swayed them, as Burns could only bench press 225 pounds seven times while the Tiger did an equally feeble ten. If it came down to leaping ability, Alexander had Burns trumped (37.5 inches to 31.5).
What it came down to was playmaking ability, something that Pittsburgh sorely lacked from their cornerbacks in 2015. Alexander has never recorded an interception as a collegian and his 23 tackles with five pass deflections last season were hardly first round numbers. Burns posted 36 hits and also broke up five passes, but he intercepted six more and caused two more turnovers via fumbles. Advantage: Burns – in the eyes of the Steelers front office.
Burns is built for speed. He has an angular frame with very good quickness. He shows good hip snap and change of direction agility. He does not take wasted steps in transition and can close on the ball quickly when the play is in front of him. He shows smoothness with his feet in his pedal and has the range to make plays along the sidelines. He shows good hand/eye coordination, but you'd like to see him generate a second gear in order to recover quicker on deep routes. He has valid feet for the position and good arm usage to stick it to receivers in press coverage.
The Hurricane is quick to gain position and sees plays in front of him well. He shows urgency getting to the ball in long pursuit. He is the type that likes to lock on to a receiver's hip and run with him, rather than give cushion. You only wish that he would make more plays in run support, as he did not show much enthusiasm for getting up to the line. He can react and recognize plays much better when they are in front of him, but has confidence in his speed to close on the ball in a hurry.
Man coverage is what Burns does best. He is active with his hands and has adequate strength to press and reroute the receiver at the line. He stays tight on the receiver through their patterns and has the feet to break on the ball in a hurry, even when his man gets a step on him. He is not the type who will deliver tackles that will take his man out of the game, but is effective at making plays on the ball. He sticks to his man tight coming off the line, but when he gambles, he pays for it by giving up the big play. Still, he generally gets the job done, especially when he keeps his hands active in attempts to redirect.
With Cockrell nothing more than a placeholder at right corner, Burns has a great opportunity to emerge from training camp as the team's right cornerback. William Gay should have his work cut out trying to stave off a position battle from 2015 second rounder, Senquez Golson, who spent last season on injured reserve. The team will likely keep five corners, leaving 2015 fourth round choice, Doran Grant, as the favorite over street free agents Donald Washington, Al-Hajj Shabazz, and Montell Garner.
Click here to continue reading about the Steelers' rookie class..
Second Round – Sean Davis, SS (Maryland, No. 58 overall)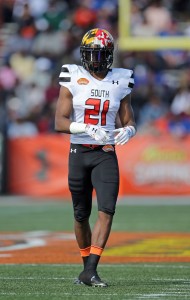 Here at The NFL Draft Report, we actually had Davis as a much more coveted prospect than Burns. The Terrapin has experience at all four secondary positions, but his hard hitting ability and range makes him a nice fit for the strong safety spot in Pittsburgh's alignment. Unless the team has a change of heart and brings back Will Allen for a third tour of duty, Davis could emerge as the starter.
Currently, Pittsburgh has Shamarko Thomas in a make-or-break situation as the starter, but in 40 games, he's posted just 46 tackles with no interceptions or pass break-ups. With Robert Golden (40 tackles, five pass deflections) replacing Allen for three games as the starter last year, he could enter the starting strong safety picture, but with Mike Mitchell (80 tackles, three thefts) still not knowing if his surgically repaired shoulder will hold up this season, Golden might be asked to start at free safety. instead. Street free agents, Ross Ventrone, Jacob Hagen, Jordan Dangerfield and Ray Vinopal only offer insurance, in case any of the four projected safeties on the roster can not make it out of the gate due to injury issues. That leaves the door open for Davis to get on the field in his first NFL season.
Dave-Te Thomas owns and operates The NFL Draft Report, a service providing insight to league scouting departments for over 40 years. All year round, you can read Thomas' in-depth reviews of both blue chip prospects and diamonds in the rough by visiting the NFL Draft Report blog.
Photos courtesy of USA Today Sports Images.
Follow @PFRumors