Earlier today, news emerged that the Broncos and Von Miller broke their silence recently. The conversation was evidently somewhat substantive, with Adam Schefter of ESPN.com reporting John Elway called the franchise-tagged linebacker in an attempt to break the ice.
Sources informed Schefter the Broncos are ready to get a deal done with Miller after an acrimonious offseason impasse. Elway spoke with Miller for around 10 or 15 minutes over the weekend on a call some said needed to be made, per Schefter, as the deadline to sign franchise-tagg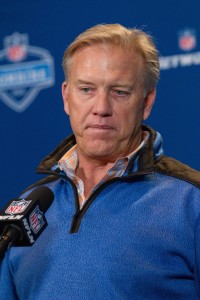 ed performers looms in 10 days.
While making it clear to Miller the Broncos still regard re-signing him as a high priority, Elway reportedly informed the reigning Super Bowl MVP he will reach out to his agents this week in an effort to accelerate talks and secure a long-term deal.
Miller and the Broncos previously ceased communication after the sides could not agree on total guaranteed money last month. Denver offered its 2011 first-round pick a six-year, $114.5MM deal that satisfied Miller in terms of contract length and total value while falling short of his expectations for guaranteed money. The previous proposal contained $39.8MM in fully guaranteed money, a sum that falls short of Marcell Dareus' 2015 extension with the Bills. The offer, one the Broncos technically rescinded after Miller declined it, also did not provide Miller with as much guaranteed money within the first nine months as the Eagles included in Fletcher Cox's extension.
The overall parameters of the deal that could well stand as what Miller signs by next Friday in the event the parties agree would make him the highest-paid defender in league history, slightly surpassing Ndamukong Suh's 2015 Dolphins accord. Suh received $59.5MM fully guaranteed at signing, however, a number Adam Caplan of ESPN.com reported the Broncos are not up to at this point.
Elway also participated in a conference call with one of Miller's agents, Joby Branion, over the weekend, according to Mike Klis of 9News. Elway has signed each of the three players the Broncos have tagged under his watch — Matt Prater (2012), Ryan Clady (2013) and Demaryius Thomas (2015) — and looks to be honing in on a potential final act of the Miller negotiations.
As it stands now, Miller has yet to sign the $14.26MM exclusive franchise tender and remains steadfast in his threat to sit out the season and enter 2017 without the possibility of being exclusively tagged next spring. Miller remains the Broncos' most important player, which serves as his leverage in this standoff, and one that's claimed two first-team All-Pro honors during a five-year career that's included 60 sacks.
Follow @PFRumors