Dolphins defensive end Dion Jordan applied for reinstatement almost two months ago, and while the organization is hoping to hear back from the NFL this week, Miami has been given no definite indication as to whether Jordan will be allowed to rejoin the club, according to Armando Salguero of the Miami Herald.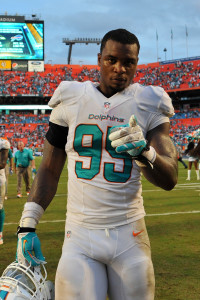 [RELATED: Dolphins sign Arian Foster]
However, even if Jordan is granted reinstatement, the Dolphins might not welcome him back to their roster, and the chief reason could be financial. As Salguero writes, Jordan is owed a fully guaranteed $1.69MM roster bonus if he's on Miami's roster on the fifth day of training camp, and there's disagreement within the team's leadership as to whether Jordan should be paid that figure. Some in the club's hierarchy believe that Jordan still possesses the talent that made him a No. 3 overall pick, while others in the front office don't think a player with three drug suspensions and little production should be handed a bonus.
If he makes the roster, Jordan could still have time finding snaps, as the Dolphins added several pieces to their defensive end rotation over the offseason, signing Mario Williams, Jason Jones, and Andre Branch. Miami also signed starter Cameron Wake to an extension, so the best bet for Jordan might be as a special teams player. Additionally, there is still some concern that Jordan's shoulder, which was flagged before the 2013 draft, might not be quite right.
The Dolphins have tried to trade Jordan in the past, Salguero notes, as they attempted to deal him to the Eagles when Jordan's former college coach Chip Kelly was in charge. Now that Kelly is in San Francisco, Salguero suggests that the 49ers could have some interest in acquiring Jordan.
Photo courtesy of USA Today Sports Images.
Follow @PFRumors