Last year, the Cowboys added Greg Hardy on a one-year, incentive laden deal. That bold move gave Dallas one of the most feared defensive linemen in the NFL, but also gave them one of the league's biggest headaches and PR nightmares. Still, after dealing with Hardy's down year and bad attitude, Jerry Jones says that he isn't necessarily changing his approach going forward.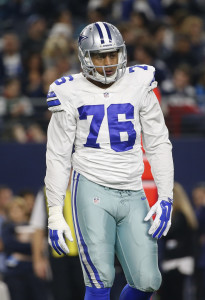 "We've taken risks," Jones told The MMQB's Albert Breer. "It was a huge risk to take (Charles) Haley back (in the '90s). Haley was a cancer on the Niners, and that's why they gave him to us for next to nothing. Dez (Bryant) was a risk. Dez was a Top 5 pick that fell because he was a risk. And in the end, you win on some, you lose on some. That's a little piece of how you succeed in business. You have to take chances."
The Cowboys, of course, have publicly ruled out a Hardy reunion. Despite all of his baggage, PFR's Dallas Robinson ranked Hardy as one of the best defensive free agents to remain on the board at this juncture of the offseason. There has been very little talk about Hardy lately, but we recently ran down some teams that could at least consider signing the defensive end.
Here's more from Breer's column:
Defensive end Dion Jordan insists that he's drug-free as he looks to return to the Dolphins, but people who were around him over his first two years tell Breer that they'd first be looking to see what condition his shoulder is in. Prior to being taken No. 3 overall in the 2013 draft, Jordan's shoulder was flagged, so it has been an issue for some time. If things work out well, however, Breer feels that Jordan could be a big part of the team's future on the defensive line. Cameron Wake is 34 and Mario Williams is 31, so the team will need a youth injection in the coming years.
Word has it that Peyton Manning will wind up in a John Elway-type executive role at some point in the next few years. Because Manning is hoping to work in someone's front office, Breer hears that he could be more willing to help the NFL's investigation into the allegations levied against him in the Al Jazeera report last December. Manning said that he would sue Al Jazeera for what he deemed to be false claims against him, but he recently decided against taking action.
Breer believes that Von Miller and Eric Berry will wind up getting multi-year deals done with their respective teams. Unsurprisingly, he does not see a deal happening for Jets defensive lineman Muhammad Wilkerson.
Photo courtesy of USA Today Sports Images.
Follow @PFRumors