2:36pm: Elliott's father, Stacy Elliott, issued a statement to Adam Schefter of ESPN.com (Facebook link):
"The reported allegations and Internet postings regarding our son are completely false. Ezekiel has done nothing wrong. The police have investigated this matter and eyewitnesses have verified the lack of any wrongdoing. The actual evidence in this matter clearly indicates what the real motivation was behind the police being called. We are confident that when the truth comes to light it will reveal the falsity of these claims. Ezekiel has been fully cooperative with the police and will continue to do so—along with cooperating with the NFL—moving forward."
11:40am: Cowboys running back Ezekiel Elliott has been named a suspect in a domestic violence police report, as first reported by TMZ Sports. Elliott, meanwhile, has denied any wrongdoing and was not arrested. The Cowboys do not believe that the allegations have merit either, Clarence Hill of the Star-Telegram hears (Twitter link). Hill hears that Elliott broke off the relationship and the alleged victim said she would ruin him if he did, leading to the accusations (via Twitter).
Still, per protocol, the NFL is looking into the allegations, as Mike Florio of PFT writes.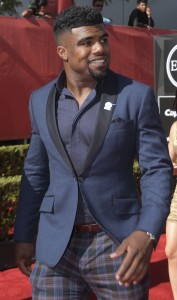 [RELATED – Jerry Jones: Cowboys Coaches Fought For Rolando McClain]
"[W]e begin a review when we become aware of a potential violation of the personal conduct policy," league spokesman Brian McCarthy said via email.
The accuser filed a report with the Columbus, Ohio police department on Friday morning, saying she was assaulted by Elliott, who she says is her former live-in boyfriend. The woman says that she was sitting in the driver's seat of her parked vehicle when the running back struck her. The accuser cited pain in her wrist and a red mark, but refused medical treatment. Elliott not only denied striking the woman, but he also said that he never lived with her. One person with Elliott's agency told TMZ: "I can assure you [the allegations] are not true."
While the police report was filed today, Florio says it is unclear whether the alleged misconduct happened before or after the Cowboys used the No. 4 overall pick to select the Ohio State product.
Photo courtesy of USA Today Sports Images.
Follow @PFRumors