When Chip Kelly came to the Eagles, he offered a reputation as an innovator. Doug Pederson doesn't come with that same rep, but he does offer many years of experience as an NFL player, which he says helps him to connect with his guys.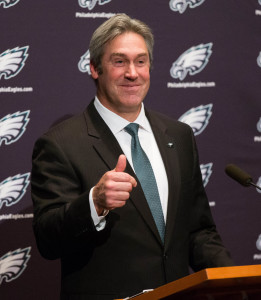 "Back when I played, the head coach was more kind of up here," Pederson said to Les Bowen of the Philadelphia Inquirer, holding his hand high. "I don't want to be up here. I want to be right down here with the guys. That's why I love what I do with these players every single day . . . I'm going to dive in there with the players. I know exactly what they're thinking. I know when it's time to give the players a break. That's the beauty of having been a player. You know when enough's enough. I feel it's important to have those relationships with the players. You're not going to have it with all 90 guys on the roster. But you're going to have them with the majority of the guys each and every day. You walk around practice and you talk to them. It doesn't have to be football-related. That's the beauty of this thing. I get to talk to them one-on-one every single day. Find out how they're doing. That's the beauty of being in this chair. I get to do that. That's what I love doing."
Under Pederson, can the Eagles win the NFC East for the first time since 2013? While you ponder that, here's a look at their competition:
It has been speculated that that Cowboys owner Jerry Jones is one of the few voices in the Dallas front office that doesn't want to cut ties with troubled linebacker Rolando McClain. This week, Jones disputed that notion in a radio interview. "Everybody lobbied to have McClain on the team. Every coach that's associated with the team lobbied for that," Jones said (via The Dallas Morning News). "To be fair to everybody concerned, we didn't know that he was going to get suspended. But his issues were potentially recognized, maybe not to the extent that he would lose the games that he got in this suspension. But make no mistake about it: With all of his warts, he still considered a potential asset for the team by the coaches." McClain will be suspended for the first 10 games of the 2016 season for violating the league's substance abuse policy. To help fill the gap, the Cowboys recently signed veteran linebacker Justin Durant.
It has been reported that rookie linebacker Jaylon Smith will not play in 2016, but, publicly, Jones will not shut the door on the possibility (link via The Dallas Morning News). In late 2015, Smith was viewed as a potential top-10 selection in the upcoming draft. However, that all changed when the Notre Dame standout tore his ACL and MCL in January. When Smith fell into the second round, the Cowboys pounced.
The Redskins didn't make a strong effort to bridge the gap with Kirk Cousins before last week's contract deadline, but that's not necessarily a reflection on how the team feels about the QB, Mike Jones of The Washington Post writes.
Photo courtesy of USA Today Sports Images.
Follow @PFRumors