Earlier this month, Ohio State head coach Urban Meyer revealed that he was working to develop some form of a combine for underclassmen, and added that he had discussed the issue with Alabama head coach Nick Saban in the past. Saban, meanwhile, has taken a step further, and plans to meet with the NFL about the possibility, according to Chase Goodbread of NFL.com.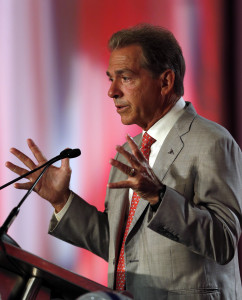 "I think the NFL is very much interested in this," Saban said on Wednesday. "We have a meeting scheduled in the near future to discuss some ways to implement this."
NCAA juniors don't currently have a venue in which to work out for NFL scouts, coaches, and front office personnel without first declaring for the draft, and Meyer said in early July that would like to see an opportunity for underclass players to showcase their skills without losing their eligibility. "It's not a process that's well done right now," said Meyer at a youth football camp. "There's a rule that says the NFL can't look at juniors. Well of course the NFL [scouts] are going to look at a junior. And they should look at a junior." The only feedback underclassmen receiver from the league at the moment is from the NFL Draft Advisory Board, which projects juniors' draft stock in January prior to the draft.
"There is a cross-section of people out there who maybe aren't giving young men responsible information about making this decision, which is indicative of 107 guys going out for the draft last year. Probably at least half of those guys probably shouldn't have made that decision relative to whether they didn't get picked, or where they got picked," said Saban. "They'd have been better off enhancing their draft status by staying in school and developing as a player. There is a group of people out there not being responsible on how they help these guys, and create unrealistic expectations of what their future might be as a football player based on where they are in their development."
Saban has offered solutions to this problem in the past, but as Goodbread has previously noted, Saban's proposal would involve pro day-esque events at every college campus, which would only serve to increase the required hours put in by NFL staffs. Arkansas head coach Bret Bielema has also suggested allowing undrafted players to return to college, an idea that is fraught with problems, per Goobread.
Photo courtesy of USA Today Sports Images.
Follow @PFRumors