With the season fast approaching, we're chatting with journalists from around the league to gain insight on each team's offseason and how those moves will impact the season ahead.
Today, we continue the series by discussing the Vikings with Darren Wolfson of 5 Eyewitness News and 1500ESPN. You can follow Darren on Twitter @DWolfsonKSTP and check out his podcast here.
Zach Links: The Vikings made Harrison Smith the highest-paid safety in the NFL when they inked him to a five-year, $51MM+ extension this offseason. Do you think that will prove to be a smart deal for Minnesota in the long run?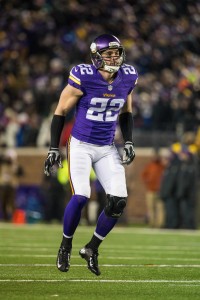 Darren Wolfson: I do. At 27, he's still in the prime of his career, and his work ethic is elite. The behind-the-scenes words on him are all incredibly positive. I can't recall hearing a bad word about Smith. He can play close to the line scrimmage, or dominate in coverage. If you just look at the tangible numbers, he's the only player since 2012 with 300+ tackles, 5+ sacks, 10+ interceptions, and 4+ interceptions returned for touchdowns. Go beyond those numbers and use analytics, and he grades out to be a top-3 safety in the entire NFL. By the way, he's been able to dominate with a revolving door at the safety spot next to him.
Zach Links: In March, few would have believed that Laquon Treadwell would fall outside the top 20 and be the fourth wide receiver to come off the board in the draft. Do you think Treadwell will ultimately prove to be the best WR in the 2016 class? Where do you think the ceiling is for him?
Darren Wolfson: Best? I'm leaning towards saying no. But I think he will help a team that so desperately needs it in the passing game. I think he's a good match for QB Teddy Bridgewater with Teddy's strengths lying in the short to intermediate routes. His measurable show that he lacks top-end explosion and speed. That's why I hesitate to say he'll prove to be the best. What he appears to be good at is stopping on a dime in the middle of the field. He gets off the line of scrimmage well, per scouts I've talked to and Vikings personnel, and I'd wager that he'll be able to create enough separation from DBs to be a useful weapon.
Zach Links: Aside from Treadwell, which Vikings rookies are you most excited about?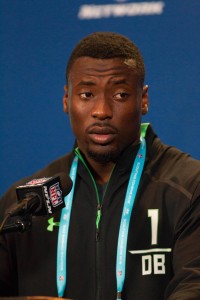 Darren Wolfson: Second round pick Mackensie Alexander has an unbelievable back story, which makes him easy to root for. Most scouts I talked to thought he'd go late first, so to get him at pick No. 54 seems like a steal. Keep in mind that head coach Mike Zimmer, 2015 first round pick Trae Waynes aside and I wouldn't give up on him, is a genius when working with cornerbacks. Zimmer's lengthy history speaks for itself. I keep hearing good things about tight end David Morgan, who they grabbed in the sixth round. I'd wager on fifth round pick, linebacker Kentrell Brothers, making the team. He can help out on special teams. The most publicized draft pick, sixth round receiver Moritz Boehringer, would benefit greatly from a year on the practice squad.
Zach Links: Cordarrelle Patterson has been a source of frustration for Vikings fans and fantasy owners alike. Is 2016 the year that the talented wide receiver puts it all together, or will he be overshadowed by the team's other talented WRs?
Darren Wolfson: I need to see it to fully believe it. But GM Rick Spielman and others with the Vikings have been singing Patterson's praises all offseason, probably more so than any other player. Looking at Patterson's tweets, it certainly looks like he's busting his butt and realizes that this is likely his last chance to get meaningful snaps. Being in a contract year can serve as great motivation – the Vikings declined to exercise his fifth-year option. His route-running needs work. But whether on end-arounds or in the return game, when he has the ball in open space, the skill-set is extremely visible. Offensive coordinator Norv Turner will have to tweak some things and find different ways to get Patterson the ball.
Click here to continue reading about the Vikings..
Zach Links: The Vikings didn't have the flashiest offseason, but they did get some much needed help on the offensive line. Do you think guard Alex Boone and tackle Andre Smith will give Teddy Bridgewater and Adrian Peterson the kind of protection they need?
Darren Wolfson: Boone is a clear upgrade, and allows Brandon Fusco to move back to right guard, his better position. He seemed miscast at left guard in 2015. Smith should be an upgrade over 2015 rookie T.J. Clemmings, who has position flexibility and can serve as a solid back-up. The key to the offensive line is left tackle Matt Kalil, and whether he can improve significantly from last year. A healthy John Sullivan – he claims he is, but we need to see it first – will help a lot too at the center position.
Zach Links: How do you see this season playing out for the Vikings? Will they repeat as NFC North champions?
Darren Wolfson: It seems to be a two-team race in the North with the Packers. It'll be interesting to see how the Vikings react to playing in a new stadium – U.S. Bank Stadium is a palace – and whether the offense can improve in the passing game. I think the passing game will be better, and the defense should remain among the top-10, and maybe even top-5. The Vikings have a lot of really smart assistant coaches, and Zimmer is a good head coach who has the command and respect of the locker room. It's good times here right now. The schedule sets up favorably playing the AFC South. I just want to see how what typically has been a great home team responds in the new stadium. Health is always so important too. For sake of answering your question, Vikings go 11-5 and will be in great position to defend their North championship. Key now is to win a game or two in the playoffs. That, to me, is how this season can be defined a success.
Photos courtesy of USA Today Sports Images.
Follow @PFRumors