With potential Las Vegas relocation looming for the Raiders, owner Mark Davis has visited the city "a half-dozen times the last six or eight weeks," Las Vegas Sands Corp. senior vice president Ron Reese said Thursday (per A.J. Perez of USA Today). Not surprisingly, then, Reese went on to classify the Raiders' interest in Vegas as "serious."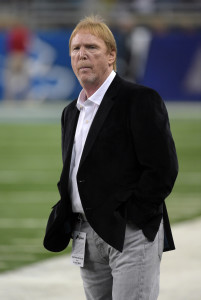 Reese's boss, Sands CEO and chairman Sheldon Adelson, has proposed a $1.45 billion, 65,000-seat domed stadium that would require $750MM in taxpayer money.
On Adelson's stadium plan, Reese stated, "It's a major investment. The NFL has expressed a strong desire for a public-private partnership. Our organization is taking the lead, working with the Raiders to create public-private support for this."
Unfortunately for Adelson and the Raiders, Nevada Governor Brian Sandoval is among multiple politicians opposed to $750MM in taxpayer money going toward a stadium and would rather the number drop by at least $200MM, a source told Mike Florio of Pro Football Talk. Sandoval has the authority to call a special session of the Nevada legislature, which could take place later this summer and determine the fate of the stadium, writes Florio.
It's unclear if the Raiders would willingly head to Las Vegas with $550MM in public money funding a stadium instead of $750MM. If they're not amenable to it, the Chargers – who aren't making progress in their quest to land a new facility in San Diego – could become the answer for the city at $550MM, according to Florio, who expects either the Raiders or Bolts to ultimately end up in Vegas for less than $750MM. It's possible, then, that Nevada could become a second viable non-San Diego option for the Chargers, who have until Jan. 15, 2017, to partner with the Rams in Los Angeles.
Photo courtesy of USA Today Sports Images.
Follow @PFRumors