The California State Supreme Court dealt a blow to the Chargers' chances of seeing a new stadium built in San Diego, and the team's future is uncertain as a result.
California's high court temporarily blocked a lower court ruling that would have made it much easier to pass the team-backed initiative that would raise hotel taxes to generate public funds toward a new stadium, Kevin Acee of the San Diego Union-Tribune reports. Instead of the measure needing a simple majority to pass in the November election, a two-thirds majority of voters will need to vote in favor of it.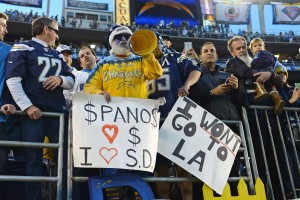 Considering Acee estimates around 60% of voters are opposed to using public funds to build a new stadium, the measure receiving 66.6% of the vote now looks unrealistic. The Chargers figured this was coming, per Acee, but Wednesday night's confirmation provides an air of finality to the lofty requirement.
This week's ruling did not mean the two-thirds threshold will be locked in, with the court only agreeing to review the appellate court's March ruling. A review does mean the appellate court's earlier decision is no longer the law, however. Even if the simple majority ruling is overturned or upheld, it will further complicate matters by dragging on past the November elections, David Garrick of the Union-Tribune writes.
A decision either way will almost certainly will not happen until at least 2017. Voters will now vote on the measure in November without knowing what will be required for it to pass, further clouding the Chargers' status.
Mike Florio of Pro Football Talk tabs the 66.6% majority requirement as virtually impossible for the stadium measure to pass, so he lays out six options for the Bolts going forward. Moving to Los Angeles or playing out their lease at Qualcomm stadium loom as the top two choices, Florio writes. The Chargers' lease at their current 49-year-old stadium runs through 2020, but repairs and upgrades are likely to be required to make this a tenable choice. After all, the stadium's state served as a driving force behind the Bolts' push for joining up with the Raiders on the teams' Carson project.
The Chargers in January agreed in principle to join the Rams in Los Angeles and have until Jan. 15, 2017 to decide. Of course, Dean Spanos then declared the team would play in San Diego this season, and the team and the city began engaging in productive talks soon after.
The franchise remains conflicted about joining Stan Kroenke's Rams in Inglewood, with Florio pointing out efforts are ongoing to determine the dollars and cents of the Chargers being the second team in Los Angeles.
Photo courtesy of USA Today Sports Images.
Follow @PFRumors