With the season fast approaching, we're chatting with beat writers from around the league to gain insight on each team's offseason and how those moves will impact the season ahead.
Today, we begin the series by discussing the Buccaneers with Greg Auman of the Tampa Bay Times. You can follow Greg on Twitter @gregauman and check out his stories here.
Zach Links: This offseason, the Bucs retained Doug Martin with a five-year, $35MM+ deal, giving him one of the highest average salaries in the NFL among running backs. Do you expect him to repeat his brilliant 2015 performance? Will the deal prove to be a wise one for the Buccaneers?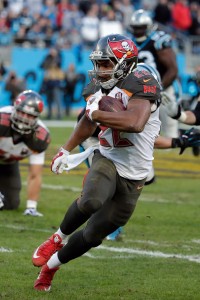 Greg Auman: I think the Bucs were smart to keep Martin, and did so without overspending — Martin had made it clear he loved living in Tampa, liked the team around him, but still got a solid contract. I don't know if Martin will finish second in the NFL in rushing again — having healthier passing options in that offense might cut back on his touches some — but think he can still improve in other areas, like scoring and red zone/goal line efficiency. They'll continue to use Martin and Charles Sims as a 1-2 combination and I think that really helps take some of the burden off Jameis Winston as well.
Zach Links: Do you think the Bucs should have given Lovie Smith another year at the helm? Are you expecting to see the team improve with Dirk Koetter as head coach?
Greg Auman: I think going into last season, most Bucs fans would have expected to have Lovie Smith back if the team went from 2-14 to 6-10 with a rookie quarterback. I think last year's team took many steps forward, but for them to be 6-6 and then drop the last four games, for them to have such persistent problems on defense, which was supposed to be what Lovie Smith teams do best, that worked against him in a big way. Having Koetter as an option to name a new coach but still have the continuity around Winston gave them the chance to make a change without everyone starting from scratch. I think the players have responded well to Koetter so far, but you really can't tell how well he'll fare until you've seen him in a game situation, handling those decisions and making adjustments during games.
Zach Links: The Buccaneers made some big money additions like signing guard J.R. Sweezy and defensive lineman Robert Ayers, but they didn't shake up the roster as much as other teams did this offseason. What other moves would you have liked to see them make?
Greg Auman: I thought they addressed their biggest needs, especially at defensive end and cornerback, both in free agency and the draft. Adding Sweezy helped offset the retirement of Logan Mankins — they really didn't have a lot of major personnel losses aside from that. I thought they might add depth at defensive tackle, and they still could do that. Other than that, I think they've worked to address what looked to be the most glaring needs on the roster.
Click here to read more on the Bucs..
Zach Links: What 53-man roster battles should fans be keeping an eye on?
Greg Auman: Battles to make the team? Receiver is a good, deep battle for the last few spots — a veteran like Louis Murphy, trying to return from knee surgery, has lots of competition just to stay on the roster. The rookies at linebacker are intriguing, and you could see veterans like offensive tackle Gosder Cherilus, defensive end George Johnson, and safety Major Wright pushed out by younger, less expensive options with more upside.
Zach Links: Tight end Austin Seferian-Jenkins walked off the field during OTAs this summer and went off on Twitter soon after. Later, he apologized for his behavior. Was this a one-off incident or should the Bucs be concerned about Seferian-Jenkins' level of maturity?
Greg Auman: Seferian-Jenkins hasn't always had the best actions or reactions, going back to his rookie year. I think he's working to show his maturity and prove himself to be healthy and reliable — the OTA thing doesn't have to be more than that. If he's focused and healthy this fall, it adds a huge dimension to the Bucs' passing game.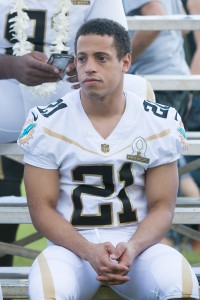 Zach Links: Brent Grimes, who came to the Bucs on a two-year, $14MM deal this offseason, has found himself in the news thanks to his wife's controversial comments. Given Miko Grimes' proclivity for speaking out and making waves, do you get the sense that the Bucs might regret the signing?
Greg Auman: I think the Bucs needed to address corner and found a veteran with good history with Mike Smith. The deal was set up so they could walk away after one year with no real penalty — he'll be a good veteran presence around Vernon Hargreaves. The Bucs certainly knew what they were getting with Miko, so to some extent, if the team and Brent are playing well, it won't be a problem. Now if they struggle or Brent isn't playing a major role, there's no telling how she'll handle that, or how the Bucs will respond.
Zach Links: What record do you see the Buccaneers finishing with this season? Will they make the playoffs?
Greg Auman: Hard to tell how much they'll improve, especially because they face a tougher schedule this year — three trips out west, facing both Super Bowl teams. They could be a better team and it wouldn't necessarily show up in a better record. I tend to go into this thinking they're 7-9 or 8-8 — anything more than that and they'll be one of the better stories in the NFL with a first-year head coach and second-year QB; anything less than that and they"ll be disappointed here in Tampa. I think the division is still Carolina's for the taking, but they won't be a 15-win team again, so there's room for someone else in the division to step up as a wild-card candidate.
Photos courtesy of USA Today Sports Images.
Follow @PFRumors