The old adage that defense wins championships may or may not be true, but you'll be hard-pressed to find a title-winning team that didn't build heavily through the draft. Rookie classes, naturally, are evaluated on the perceived upside of the NFL newcomers, but which rookies are ready to contribute right out of the gate? And, how do they fit in with their new team schematically?
To help us forecast the immediate future of these NFL neophytes, we enlisted the help of draft guru Dave-Te Thomas who has served as a scouting personnel consultant to NFL teams for multiple decades.
First Round – Keanu Neal, S (Florida, No. 17 overall)
When the Falcons drafted Neal, they did so with the idea that he would start at strong safety from Day 1. That's exactly how the Falcons are going to use the youngster just as soon as he rebounds from his "trunk" injury that has dogged him in recent weeks.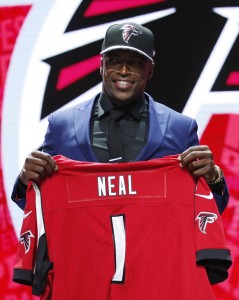 Neal is a smooth, fluid mover who has done quite a nice job of making plays at the opposite side of the field, thanks to his burst, second gear, and ability to sift through traffic to get to the ball. He shows excellent ball reactionary skills, along with the quick decision-making process to close on the play with good urgency. He can change direction in an instant and does a nice job of maintaining position when challenged by lead blockers assisting vs. the ground game.
He has the nimble feet you would want in a free safety, along with the loose hips to recover quickly when a receiver gets behind him. He can turn and run with the speediest of receivers, as he is a savvy player who knows how to disrupt the route's progression by using his hands to knock his coverage assignments off stride. He has the loose hips and sudden burst to close on the ball in a hurry and shows good body control in transition. Neal has excellent hand/eye coordination, along with the leaping ability to get fine elevation going up to get to the pass at its high point (team's active interception leader). He is quick and fast, which allows him to keep plays in front of him and mirror even the swift flankers and split ends in deep secondary coverage.
While he is too valuable as a centerfielder to remove him from either safety position, he has the speed, range and mirroring ability to excel as a slot cornerback, as he is fluid and calm in one-on-one confrontations with split ends and flankers, along with showing the physicality to reroute tight ends and slot backs working in the short areas. Neal has the quickness, agility, and speed needed in the slot to more than handle any NFL No. 3 receiver. His play is reminiscent of Ryan Clark in terms of his ability to quickly locate the receiver and stay on the hip of his man throughout the route.
Neal came into this draft with experience at both safety positions, but thanks to the recent success that the Cardinals and Rams had in utilizing big safeties to play the Cover-2 linebacker role, Neal drew extra attention. Handling Cover-2 assignments at the next level will see Neal return to his roots as he was a second level defender during his days at South Sumter High School.
Continue reading about the Falcons' rookies..
Second Round – Deion Jones, ILB (LSU, No. 52 overall)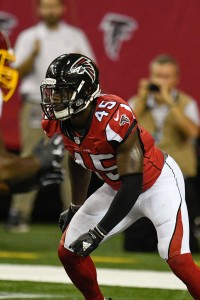 The Falcons have missed the steady play of Curtis Lofton, having let the middle linebacker leave after the 2011 season. Paul Worrilow manned the position last year, leading the team with 95 tackles, but the slow-footed defender struggled to contain the running game, evident by the twenty touchdowns Atlanta allowed vs. the run last season. While there were much bigger options in the draft, Atlanta recognized that Jones' instincts and quickness far outweigh his deficiencies – size and bulk.
Still, the Butkus Award finalist joins the team having only started for the Tigers last season. He did make the most of his one year with the first unit, leading LSU in tackles with 100. Previously, he had thrived on special teams for first three years before flourishing as a senior at outside linebacker. He capped his career with 165 tackles, 21.0 stops-for-loss, and five sacks while playing in 51 games with 12 starts. He would serve as team captain and shared the squad MVP honors.
What separates Jones from most in his draft class is his outstanding instincts and reaction speed, as he knows the game and plays very fast. He is the type that reads plays quickly, whether smelling out a screen or coming off an edge blitz to take away an open back coming into the flat. There are times where he can get a bit overzealous against the run and will bite on play-action, but he has that burst needed to recover.
Because of his range, Jones can cover more ground than most linebackers, as he displays good lateral quickness and generally takes solid angles. He is also the type that can generate straight-line speed and closing burst to make impact plays in the backfield (13.5 tackles-for-loss in 2015). He does a nice job of breaking down in the open field and will consistently wrap up and get his man down. His only real knock here is that he does not display explosive initial pop as a hitter, which is partially a byproduct of his lack of elite size and bulk.
Dave-Te Thomas owns and operates The NFL Draft Report, a service providing insight to league scouting departments for over 40 years. All year round, you can read Thomas' in-depth reviews of both blue chip prospects and diamonds in the rough by visiting the NFL Draft Report blog.
Photos courtesy of USA Today Sports Images.
Follow @PFRumors