The old adage that defense wins championships may or may not be true, but you'll be hard-pressed to find a title-winning team that didn't build heavily through the draft. Rookie classes, naturally, are evaluated on the perceived upside of the NFL newcomers, but which rookies are ready to contribute right out of the gate? And, how do they fit in with their new team schematically?
To help us forecast the immediate future of these NFL neophytes, we enlisted the help of draft guru Dave-Te Thomas who has served as a scouting personnel consultant to NFL teams for multiple decades.
The Cowboys hope that their 2016 draft cache performs as well as their 2015 draft version, rather than resemble the motley crew they selected in the 2014 phase. The 2015 draft class saw each of their six choices contribute, with first rounder Byron Jones looking like the long-range solution at free safety and fourth rounder, Damien Wilson, a wild card to take home first-team honors either at the weak-side (Sean Lee injury history) or in the middle (where Andrew Gachkar resides and where Rolando McClain was expected to patrol).
The team might need to recruit a drug czar, as they will see McClain, 2015 second-round rush end Randy Gregory, and 2014 second-round defender Demarcus Lawrence all having extended vacations this year due to their endeavors off the field. The 2014 draft did produce two quality starters in All-Pro guard Zack Martin and strong-side linebacker, Anthony Hutchins, but they have nothing of note to show for their other seven selections that year.
Star running back Ezekiel Elliott is expected to make Cowboys fans remember the glory days of Emmitt Smith, but he also has a dark cloud hanging over him after arriving in camp amid domestic abuse allegations. If Elliott gets cleared of alleged charges, the backfield could have a whole new look, as the staff is quietly touting sixth round Eastern Michigan tailback Darius Jackson as someone who will at least make "some noise" for the special team units.
It would have been nice if the team had taken a wide receiver, particularly the one the staff wanted in Ohio State's Jalin Marshall. From early talk out of Jets camp, it appears Marshall could be the Green Nation's biggest find in camp. Still, they did add some much-needed youth at quarterback late in the draft. Here's a closer look at the two rookies I really like out of Dallas' class this year:
First Round – Ezekiel Elliott, RB (Ohio State, No. 4 overall)
While Derrick Henry captured the 2015 Heisman Trophy, it was unanimous within the scouting industry that no tailback would be selected before Elliott in the draft. In fact, most scouts felt that the Buckeyes standout was the only running back worthy of first round consideration. In three seasons at the university, the football legacy has proven to be one of the best playmakers in the game.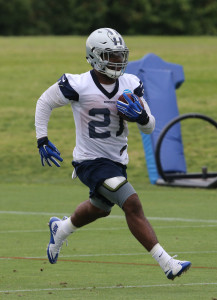 After beginning his Ohio State career as a reserve, Elliott became an immediate crowd pleaser once he stepped into the starting lineup two years ago. During his two seasons with the first unit, he amassed 3,699 yards on 562 carries (6.58 ypc) that included 41 touchdowns, adding 426 yards via 55 receptions (7.75 ypc). He would record 22 100-yard rushing performances, which rank second in school history behind Archie Griffin's 34 such performances (1972-75). Among those 22 successful century-yard games, he gained at least 200 yards five times, tying the Ohio State record first set by Eddie George (1994-95).
While those numbers are impressive, Elliott also excelled at moving the chains. On 510 non-touch-down carries since he became a starter, it took multiple defenders to bring him down on 125 of those attempts (24.51%). He recorded 90 successful runs that were downed inside the red zone, including 37 within five yards of the goal line. In addition to his 41 touchdown runs, he had crucial carries that helped set up 25 other touchdown drives and four possessions that resulted in field goals.
Unlike most college ball carriers, Elliott has excellent receiving ability. Putting his 4.47 speed and natural hands to good use, he caught 55-of-59 targeted passes (leads the draft's running backs with a 93.22% success rate) for 426 yards, setting up four touchdown drives and one field goal. Eighteen of his receptions gained at least ten yards and he recorded nineteen first downs as a receiver, including converting eight third-down tosses and another on a fourth-down play.
Elliott is a downhill runner, but he also has very loose hips, quick change of direction, and good power that he combines with nimble feet and excellent running balance. He shows superb agility with his pick-and-slide and the hip flexibility to easily redirect to the cutback lanes. He has impressive acceleration into the second level and unlike most big backs, do not label him as a one-cut runner, as he is quite capable of eluding or running through tackles.
The Ohio State product has very good leg drive and initial quickness for his position. He shows very good vision ability and does a nice job of sliding through the hole. He is a strong runner that can break arm tackles. He also shows he can break free for a big gain, though he lacks that second gear/home run speed. With an explosive stride, he shows that instant acceleration once he clears the line of scrimmage (see 2015 Virginia Tech, Indiana, Michigan and Notre Dame contests). Behind this stellar Dallas line, Elliott can be a real star for Dallas right away.
Click here to continue reading about the Cowboys' rookies..
Fourth Round – Dak Prescott, QB (Mississippi State, No. 135 overall)
Like Elliott, Prescott also has had some problems away from the gridiron. Six weeks before the 2016 draft, he was arrested and charged with DUI. Prescott was later found not guilty, but the incident was still enough to scare off some interested teams at drat time. The quarterback was projected as a second-round pick after winning the Senior Bowl MVP and working out at the NFL combine, but he wound up sliding to Dallas in the fourth round.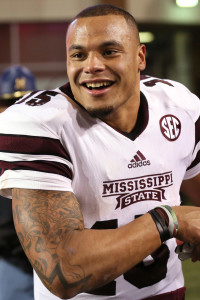 The most decorated player in Mississippi State history, Prescott is a two-time All-American and two-time All-Southeastern Conference quarterback, adding 2016 Senior Bowl Most Outstanding Player accolades. He is the second quarterback in school history to earn consecutive All-SEC first-team honors (Billy Stacy, 1956-57) and one of four players in FBS history and the second player in Southeastern Conference history (2007 Heisman Trophy winner Tim Tebow) to throw for 70 touchdowns and rush for 40 touchdowns in a career.
Prescott is one of 10 players in FBS history and the second player in SEC annals (Tebow) to pass for 8,500 yards and rush for 2,000 yards. He owns 38 school records (8 single-game, 15 single-season, 15 career) and has accounted for 114 career touchdowns, which ranks fourth in SEC history. He tallied 11,897 yards of total offense, which ranks third in SEC history. He also rushed for 2,521 yards, the third most by a quarterback in the SEC record book.
Prescott has a thick, powerful frame, with long arms, good chest and shoulder muscle definition, good bubble with thick thighs and calves. Prescott has a tight midsection, big bubble and a good core, as he can easily carry more bulk with no loss of his impressive quickness. On top of his NFL-ready frame, he offers good athletic skills. He is quicker than he is fast, but thanks to his flexibility and balance, he does a good job of avoiding the pass rush. He shows the vision to locate the cutback lanes when flushed out of the pocket and is a good open field runner with the leg drive to break tackles.
He will not force the ball into the crowd and with his quick feet, he is able to buy time in the pocket and scan the field to locate secondary targets. He is capable of making proper reads vs. zone coverage, but will get into trouble at times when he tries to create something out of nothing. His ability to recognize coverage and make hot reads has kept his interceptions to a minimum, but ball security could be a problem, as he has coughed up the ball, mostly on sacks and naked bootlegs. His ability to learn, retain and execute plays results in big plays for the team, but you wonder what he can do vs. top level competition, as has not fared well when playing outside his conference or vs. lower tier type of teams.
Prescott has no problems digesting a complicated playbook, which is good news when it comes to his NFL-readiness. He had more than enough grasp of the system in college and showed that he can take the play from the chalkboard to the field with minimal reps. With Kellen Moore's recent leg injury and Tony Romo's back issues, that could all be put to the test in Prescott's rookie season.
Dave-Te Thomas owns and operates The NFL Draft Report, a service providing insight to league scouting departments for over 40 years. All year round, you can read Thomas' in-depth reviews of both blue chip prospects and diamonds in the rough by visiting the NFL Draft Report blog.
Photos courtesy of USA Today Sports Images.
Follow @PFRumors