The old adage that defense wins championships may or may not be true, but you'll be hard-pressed to find a title-winning team that didn't build heavily through the draft. Rookie classes, naturally, are evaluated on the perceived upside of the NFL newcomers, but which rookies are ready to contribute right out of the gate? And, how do they fit in with their new team schematically?
To help us forecast the immediate future of these NFL neophytes, we enlisted the help of draft guru Dave-Te Thomas who has served as a scouting personnel consultant to NFL teams for multiple decades.
First Round – Taylor Decker, OT (Ohio State, No. 16 overall)
Decker came into the draft with a fair amount of buzz and, unsurprisingly, the Lions immediately penciled him in as their starting left tackle. It's true that Decker had a rough time in his preseason debut on Friday against the Steelers, but we're expecting Decker to pick things up pretty quickly this season in Detroit.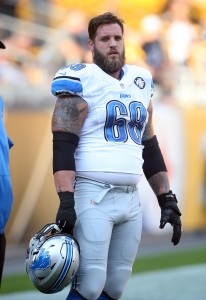 The first thing you notice about Decker is his quickness and flexibility in his kick slide. He has classic natural knee bend with good hip snap to redirect and mirror the edge rushers. He is nimble moving his feet in his pass set-up, retreating fluidly while maintaining body control. He shows good urgency and leg drive coming off the snap, demonstrating the knee bend to drop his weight well. Decker's balance and flexibility allows him to change direction fluidly and shows very good acceleration when blocking into the second level. He is quick to readjust and plays on his feet, showing good body control and balance operating in space. His lower body flexibility lets him recover to anchor and he is very smooth changing direction to get in front on traps and pulls.
Decker has that quick first step, above average body control, exceptional balance, and good leg drive to walk his assignment off the snap in run blocking situations. He is quick and agile enough to generate solid second level blocks and works hard to maintain the rushing crease. He shows ease-of-movement when redirecting and keeps his weight down and hips loose to flow with the play. He knows how to use his size to wall off and has the foot balance to sustain. You can see on film that Decker comes off the snap with a hard charge, using his leg drive and foot balance to stay on his blocks (see 2015 Virginia Tech, Michigan and Notre Dame games). He has the lower body strength and explosion to consistently drive and create rush lanes, but he can also gain position and use his body to wall off and hold.
Obviously, the natural ability is there, but his intelligence and instincts also made him such a highly-regarded prospect. Decker is sharp when it comes to learning and retaining plays. He has experience at both offensive tackle positions, but also knows the assignments for any of his line mates, if he needs to fill in during an emergency. He brings an aggressive nature to his game, more like a defender's mentality, yet plays in control. That's why we're betting on him, despite the Friday night hiccups.
Continue reading about the Lions' rookies..
Second Round – A'Shawn Robinson, DT (Alabama, No. 46 overall)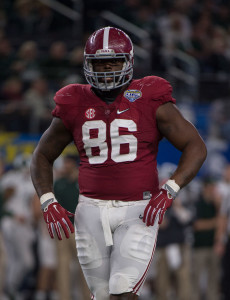 Heading into the draft, many believed that Robinson would find his way into the first round. However, he slipped and the Lions were happy to catch him at No. 46 overall. Robinson now has an opportunity to play alongside Haloti Ngata at defensive tackle and hopefully absorb his years of knowledge.
Much like his teammate, Jarran Reed, Robinson was often shuttled in and out of the lineup, thanks to a slew of four- and five-star recruits on the defensive front wall. He started 30-of-42 games for Alabama, recording 133 tackles (49 solos) with nine sacks for minus 53 yards, 22.0 stops for losses totaling 76 yards and eighteen quarterback pressures. He also broke up five passes while causing and recovering a fumble.
Because of his run stuffing skills, Robinson should shine as a defensive tackle in a 4-3 alignment. He is good at keeping his feet on the move and has the balance that makes it tough for blockers to knock him down. He has that short area pursuit speed to give chase down the line and with his change of direction agility and field vision, he is quick to redirect and neutralize the cutback lanes. He plays hard and uses his body effectively to fight through blocks and – when he keeps his pads down – he does a good job of splitting double teams. At that low pad level, he is more effective using his strength to push the blockers back through the rush lanes. He has the short area burst to string plays wide and his lower body base and anchor makes it very difficult for defenders to move him off his anchor.
Robinson is also an effective wrap-up tackler. He might not punish ball carriers on every play, but is consistent at using his long reach to secure and drag down the opponent. He has the strength to prevent blockers from locking him up, but must get a good grip as he does try to escape blocks rather than forcefully defeat them. When his motor is "on," he has the strength to punish and generates good lower body power behind his hits, making steady improvement keeping his feet to drive the lead blocker back through the rush lane. He is good at breaking down and engulfing ball carriers in space and shows functional power. When making the wrap-up tackle, he is good at squaring up and bringing his hips and legs.
Third Round – Graham Glasgow, C/G (Michigan, No. 95 overall)
Mr. Travis Swanson, turn around and see who might be taking away your starting job. Jim Harbaugh is old school coaching at its finest, as he follows the mantra set by Paul Brown and Chuck Noll – if you want a great offensive line, start in the middle to built that foundation. In Glasgow, the Lions get a player who could one day rival Detroit's former starting center, Dominic Raiola for longevity in the pivot.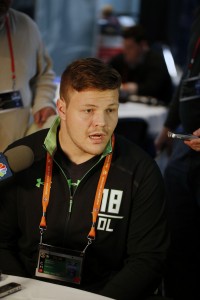 Glasgow enters the league with three seasons as a starter under his belt. After appearing in five games as a reserve guard during his freshman year, he made nine starts at center and four more at left guard during his sophomore campaign. The All-Big Ten Conference choice started all eleven games he appeared in at left guard in 2014, but with Harbaugh's arrival in 2015, he moved his best trap blocker inside to center, where he was the Hugh R. Rader Memorial Award recipient as Michigan's top offensive lineman.
There is no question that Glasgow understands positioning. He does an excellent job when asked to turn and seal his opponent away from the ball carrier, working hard to sustain his blocks through the whistle. One reason for his move to center is that he possesses excellent hand placement, balance, anchor and mirroring technique as a pass blocker. Some scouts feel that the Wolverine does not necessarily stand out in any way one area, but his ability to play every position along the line is very enticing.
Glasgow is a functionally solid technician who relies on his short-area quickness to get in front on traps and pulls, along with using his size and strength to gain success widening the inside rush lanes. He does a fine job in recognizes blitzes and stunts, maintaining balance when retreating to protect the pocket. He fires off the snap with good explosion, making sure to get his hands into the defender's chest smoothly.
Glasgow also shows enough long distance skills and quickness out of his stance to maintain a wall for the passer. He's become a very good cut blocker working in-line and fires low off the snap with hands on the rise to get into a defender's jersey quickly. He's a rare sized center (6:06), but even though he's tall, he stays low in his pads on inside traps and pulls well when running towards the outside.
Dave-Te Thomas owns and operates The NFL Draft Report, a service providing insight to league scouting departments for over 40 years. All year round, you can read Thomas' in-depth reviews of both blue chip prospects and diamonds in the rough by visiting the NFL Draft Report blog.
Photos courtesy of USA Today Sports Images.
Follow @PFRumors