The old adage that defense wins championships may or may not be true, but you'll be hard-pressed to find a title-winning team that didn't build heavily through the draft. Rookie classes, naturally, are evaluated on the perceived upside of the NFL newcomers, but which rookies are ready to contribute right out of the gate? And, how do they fit in with their new team schematically?
To help us forecast the immediate future of these NFL neophytes, we enlisted the help of draft guru Dave-Te Thomas who has served as a scouting personnel consultant to NFL teams for multiple decades.
First Round – Sheldon Rankins, DT (Louisville, No. 12 overall)
The Saints found a playmaker in Louisville's Sheldon Rankins. One month ago, I would have told you that Tyler Davison and Nick Fairley should watch their backs as the former Cardinals powerhouse was rapidly pushing for first unit assignments. Unfortunately, Rankins suffered a broken fibula a couple of weeks ago, meaning that we'll have to wait a little longer to see him take the field. Even though he seems ticketed for IR-DTR, Rankins still appears poised to make an impact in 2016.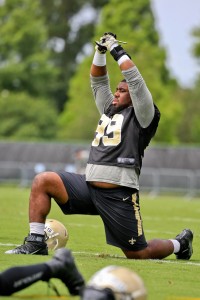 Thrust right into action as a 280-pound true freshman, Rankins was a valuable performer for Louisville and "fireplug" at the strong-side defensive tackle position, playing in a 4-3 defensive alignment during his first two campaigns.
With the Cardinals shifting to a 3-4 defense in 2014, Rankins returned to his "roots" at strong-side defensive end, a position where he had compiled 153 tackles (112 solos) with 23.0 sacks and 49.0 additional stops behind the line of scrimmage with 23 quarterback pressures, five fumble recoveries, six forced fumbles, six pass deflections, and three interceptions during his sophomore through senior prep campaigns.
Entering the 2015 season, the Cardinals defender has an appropriate last name. If you consider the consensus analysis from professional scouts, at the strong-side defensive tackle position, it is sort of a "rank and file," with Rankins the unquestioned top 2016 draft talent, and the rest of the eligible prospects "filing" in behind him.
Rankins is a very disruptive run defender with rare initial quickness. He is at his best shooting gaps and planting ball carriers in the backfield, but he also has long arms (33 inches) for his frame and the upper-body strength to press blockers off him. His ability to penetrate also makes it tough for quarterbacks to step up in the pocket, and he doesn't have to win with quickness to be an effective pass-rusher, either. He has the violent hands and motor to get to the quarterback when he doesn't win with his first move.
Rankins is an exceptional competitor with great football character and football/classroom intelligence. He's a self-motivator, called the team's "best" practice player by the coaching staff. He has developed into a "film junkie" and easily transfers what he learns in film study to the field. He displays elite first-step quickness and explodes into the backfield, as he can handle either the five- or three-technique chores, thanks to his low center of gravity and explosiveness that makes it tough to establish position against him.
Rankins' hand usage and upper body strength shows that he has more than enough ability to split double teams. He consistently shoots the gaps to make plays in the backfield and excels at using his hands to control blockers and tracks the ball when moving down the line. He is not the type that will have any issues when trying to anchor when forced into phone booth vs. bigger offensive linemen, as he does a very nice job to split double team action with initial quickness and power.
Second Round – Michael Thomas, WR (Ohio State, No. 47 overall)
Saints coach Sean Payton says that he would want to target Michael Thomas in fantasy football and that's a sign that he'll be targeted often by Drew Brees. At the same time, Payton has said that fellow receiver Brandon Coleman has been "pedestrian" for most of training camp. Thomas is technically listed behind Coleman and Willie Snead on the depth chart for now, but we wouldn't be surprised to see the Ohio State product leapfrog one or both of those players.
There are times when Thomas can simply flat-out fly down the sidelines and once he gets into his route, he builds his acceleration nicely. He is a long strider, but has good quickness off the line and the ability to eat up a defender's cushion. He shows nice acceleration throughout his routes, but needs to develop an array of moves to set up the defender, even though he does a good job of sinking his hips/pads to come out of his breaks cleanly.
Yes, Thomas takes long strides, but they are quick enough for him to get to his break point, thanks to his ability to lower his pads and drop his weight to generate the burst needed coming out of his plant. He has the speed to run off defenders and has started to develop a good feel for quarterback pressure, doing a solid job of working back to the ball. He rounds up field routes some, but has the body control to adjust and get under the thrown ball without having to break stride.
Thomas can bend and catch the low ball or jump and adjust to the overthrown passes and get to the ball at its high point. He looks natural with his body control to get in position and make plays over his shoulder. He times his leaps well and it is rare to see him lose on a jump ball battle. He has some hip stiffness, but gets good elevation and extension to catch away from his frame. He also does a good job of using his long arms to catch the ball at its high point and despite consistently poor throwing by his quarterbacks, he had just 9-of-88 targeted passes deflected away from him in 2015.
Dave-Te Thomas owns and operates The NFL Draft Report, a service providing insight to league scouting departments for over 40 years. All year round, you can read Thomas' in-depth reviews of both blue chip prospects and diamonds in the rough by visiting the NFL Draft Report blog.
Photos courtesy of USA Today Sports Images.
Follow @PFRumors