49ers offensive lineman Anthony Davis realizes that his best chance to start this year might be at right guard, he told reporters – including Eric Branch of the San Francisco Chronicle – on Thursday.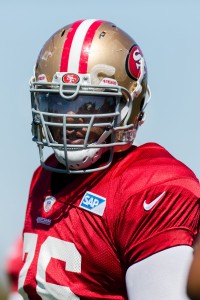 [RELATED: PFR reviews the 49ers' offseason]
After serving as the 49ers' No. 1 right tackle and starting in each of his 71 appearances from 2010-14, Davis took a hiatus from football last season and returned earlier this summer to find second-year man Trent Brown at his position. Given Brown's size (6-foot-8, 355 pounds), the 6-5, 323-pound Davis recognizes that he's a better fit at guard than Brown. That's why Davis went to 49ers coaches and volunteered to line up at guard, where he took some reps in practice Thursday.
"I can play anywhere on the line," said Davis. "Like I was saying, we want the best five on the field, and Trent is not going to play guard. He's a giant man and I knew I could adapt to guard. I feel like that would help us."
Davis' 49ers-first approach is a change of pace for a player who took shots at general manager Trent Baalke and the organization during the offseason. Regardless, head coach Chip Kelly agrees that Davis has the potential to be a factor at multiple O-line spots.
"Whether it be right tackle, left tackle, center, left guard, right guard, I think when you've got someone 6-5, 330 pounds that moves like he moves, I think you could play him any position along the offensive line," Kelly said earlier this week (via Matt Barrows of the Sacramento Bee)
It's worth noting that Brown has neither the pedigree nor anything resembling the experience of Davis – whom the 49ers originally chose 11th overall from Rutgers. Brown went in the seventh round of last year's draft and picked up a meager 187 offensive snaps as a rookie, yet the ex-Florida Gator could force Davis out of the lineup or to a new position. If anything, Davis expects the latter to be the case.
"I'll be on the field, sooner or later," he declared. "I'm pretty good at football."
If Davis ends up at guard, that would send two of Zane Beadles, first-rounder Joshua Garnett and current right side starter Andrew Tiller to the 49ers' bench. As of now, Beadles has the lead over Garnett for the starting job on the left.
Photo courtesy of USA Today Sports Images.
Follow @PFRumors