This past offseason brought far less upheaval to San Francisco than last year's, but it certainly wasn't a smooth winter for the 49ers. After racking up a paltry five wins en route to a last-place NFC West finish in 2015, the 49ers made a coaching change for a second straight year. Once the 49ers tabbed Chip Kelly to replace Jim Tomsula on the sidelines, acrimony between them and their erstwhile franchise quarterback led to months of speculation about a possible trade.
The Niners came close to sending Colin Kaepernick to the Broncos, but talks fell through after the 28-year-old refused a pay cut to join the reigning Super Bowl champions. As a result, the 49ers have a potential backup signal-caller with an $11.9MM base salary on their hands. While Kaepernick entered the summer set to compete with ex-Jaguars bust Blaine Gabbert for the starting job, a "dead arm" has recently kept the former from vying for the position. General manager Trent Baalke downplayed that Wednesday, however, and added that Kaepernick could begin ramping up activities Thursday. Regardless of whether Kaepernick or Gabbert ultimately wins the job, San Francisco looks like a strong bet to finish at the bottom of its division for the second consecutive season.
Notable signings:
The 49ers entered the offseason with a whopping $62MM in cap space, but Baalke elected against indulging in any kind of a spending spree. His biggest outside expenditure during free agency was guard Zane Beadles, a former Bronco and Jaguar who has impressively logged five 16-start seasons in a row. Beadles made the Pro Bowl back in 2012, though the 29-year-old hasn't been nearly as effective lately. In fact, Pro Football Focus (subscription required) ranked Beadles 64th out of 81 qualified guards in overall performance last season, and the Jags subsequently released him. Nevertheless, for a rebuilding team like the 49ers, investing modestly ($2.8MM guaranteed over three years) in a durable veteran was a reasonable path to take. They did the same in retaining a handful of in-house veterans, with nose tackle Ian Williams, tight end Garrett Celek, and kicker Phil Dawson serving as the most prominent members of the group.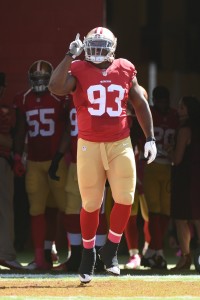 Unfortunately, an ankle injury that Williams suffered during the offseason has ruined his 2016. The 305-pounder initially agreed to a five-year contract worth more than $25MM to stay in the Bay Area, but the 49ers nixed that over concerns about how quickly he'd recover from multiple ankle surgeries. Thus, despite grading as PFF's 18th-best interior lineman and one of its premier 3-4 nose tackles last season, Williams had to settle for a one-year, $3MM pact. But it turns out Williams' ankle will keep him from playing at all this year, as the 49ers placed him on season-ending injured reserve last month.
Even with Williams around, the 49ers likely weren't going to push for a playoff spot. However, Williams' injury is still a blow to him and the team, which signed the former Notre Dame defender as an undrafted free agent in 2011 and has since helped develop into a terrific pro. With Williams out of the picture, the 49ers are especially thin at nose tackle (depth chart), where Mike Purcell and $1MM signing Tony Jerod-Eddie – a fifth-year Niner – look primed to see most of the action.
Continue reading about the 49ers' offseason…
Celek, 28, joined the 49ers as an undrafted free agent in 2012 and finally got somewhat involved in their passing game last season. After combining for eight catches, 13 targets, 142 yards and no touchdowns during his first three seasons, Celek totaled 19 receptions, 28 targets, 186 yards and three scores in 2015. That encouraged the Niners enough to give the former blocking-only option a four-year, $10.2MM deal with $3.5MM in guarantees. It's dubious whether Celek will continue the mild ascent he experienced in the 49ers' offense in 2015, though, as he's competing with Vance McDonald for a starting position and Kelly only deployed two-tight end sets 25.8 percent of the time in Philadelphia last season, per Matt Barrows of the Sacramento Bee. That's a significant drop from the 44 percent rate of two-TE sets the 49ers utilized under Tomsula and his offensive coordinator, Geep Chryst.
Dawson, now in his age-41 season and second in San Francisco, didn't show any obvious signs of decline last year. The 17-year veteran hit an impressive 24 of 27 field goals, good for the 10th-best success rate in the league (88.9 percent). He also connected on all three of his attempts over 50 yards and nailed 20 of 21 extra points (the miss was blocked). Dawson hasn't converted worse than 80 percent of his field goal tries since 2006, when he made only 72.4 percent of attempts as a member of the Browns, so it appears San Francisco was wise to bring him back for just over $3.1MM.
Notable losses: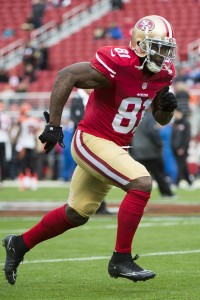 At least in terms of career accomplishments, Anquan Boldin's loss is easily the 49ers' biggest. Boldin combined for 237 receptions, 3,030 yards and 16 TDs during his three-year tenure with the club. While his numbers clearly declined last year at the age of 35, Boldin still paced the Niners in yards (789) and TDs (four, tied with Torrey Smith), and more than doubled their second-leading receiver, Smith, in catches (69 to 33).
Boldin's production won't be easy to replace, then, though it should lead to more targets for Smith, whose first season with the 49ers was a disappointment. The former Raven inked a five-year, $40MM deal last winter and proceeded to amass the fewest receptions, targets (61), yards (663) and scores (four, tied with his 2013 total) of his five-year career. On the bright side, Smith's streak of 16-game seasons continued and the big-play threat kept up his field-stretching ways in notching a career-high, league-leading 20.1 yards per catch.
Now that Boldin is in Detroit, Smith should be the obvious go-to option in the 49ers' passing attack. Aside from him, it looks as though San Francisco's top choices at wideout will be a trio of uninspiring fourth-round picks from 2013-15 – Quinton Patton (36 catches in 26 games), Bruce Ellington (19 receptions in 26 contests) and the banged-up DeAndre Smelter (zero experience). The 49ers had a potential 2016 breakout candidate in the 25-year-old Eric Rogers, a former CFL star whom half the league pursued last winter before he signed with San Francisco. But Rogers tore his ACL earlier this month and will miss the season, forcing the Niners to wait another year to evaluate him.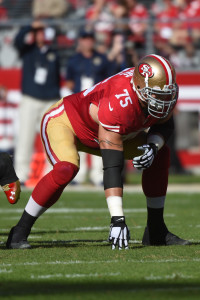 Guard Alex Boone left the 49ers after seven years with the organization for a sizable payday in Minnesota, making him the only Niners departure who earned big money elsewhere. Boone was a longtime stalwart at both guard spots in San Francisco, where he started in 59 of 60 regular-season appearances from 2012-15. One of Beadles or first-round rookie Joshua Garnett (more on him later) is likely to replace Boone on the left side this year, while either of those two or Andrew Tiller could grab the reins on the right. That position is there for Beadles, Garnett or Tiller because the 49ers waived Jordan Devey, who made nine less-than-stellar starts last year and is now a member of the Chiefs.
The 49ers lost a pair of backfield members, longtime pro Reggie Bush and Jarryd Hayne, the latter of whom retired. Hayne, who emigrated from Australia last year, tried to make his mark in the NFL after a successful rugby career. It wasn't to be, though, as Hayne made a limited impact as a rusher and return man in eight games with San Francisco. Hayne perhaps could have pushed for a spot on the roster again this season, but the 28-year-old decided to go back to his homeland and return to rugby (which seems to be going well).
Bush, meanwhile, surprisingly made less of a dent in the Bay Area than Hayne did. While the hope when the 49ers signed Bush was that he'd continue his work as a capable dual threat and give Kaepernick a backfield weapon in the passing game, he wasn't able to do that during a truncated campaign. Before tearing his ACL in St. Louis on Nov. 1, the former Heisman Trophy winner at USC picked up just 12 touches (eight rushes, four receptions) and 47 yards in parts of five games. Thanks to a combination of his injury, career-worst showing and age (31), the 49ers chose not to re-sign the Bush.
Trades:
Acquired a 2016 first-round pick (No. 28) and a 2016 seventh-round pick (No. 249) from the Chiefs in exchange from a 2016 second-round pick (No. 37), a 2016 fourth-round pick (No. 105), and a 2016 sixth-round pick (No. 178).
Draft picks:
1-7: DeForest Buckner, DL (Oregon)
1-28: Joshua Garnett, G (Stanford)
3-68: Will Redmond, DB (Mississippi State)
4-133: Rashard Robinson, CB (LSU)
5-142: Ronald Blair, DE (Appalachian State)
5-145: John Theus, T (Georgia)
5-174: Fahn Cooper, OL (Ole Miss)
6-207: Jeff Driskel, QB (Louisiana Tech)
6-211: Kelvin Taylor, RB (Florida)
6-213: Aaron Burbridge, WR (Michigan State)
7-249: Prince Charles Iworah, DB (Western Kentucky)
For the second straight year, the 49ers chose a former Oregon defensive lineman with their top draft pick. Incidentally, Kelly was the former head coach at Oregon, where he recruited both 2015 first-rounder Arik Armstead and this year's seventh overall selection, DeForest Buckner, to the Ducks. The pre-Kelly 49ers brought Armstead along slowly as a rookie, giving him zero starts and using him in 32.9 percent of defensive snaps. It appears the club will take a different approach with Buckner, who showed enough early in training camp to earn a No. 1 role and a solid chunk of first-half playing time in the 49ers' preseason opener against Houston on Sunday.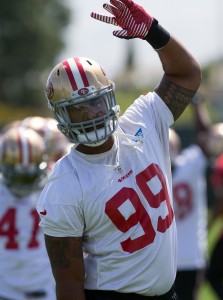 Kelly likes what Buckner has provided, saying Sunday, "I thought DeForest has had a really good camp so far and I thought he did some really good things (Sunday). There's still some things I think he needs to clean up, but he's obviously pushing to get a lot of playing time right now." 
Buckner garnered extensive experience during his four seasons at Oregon, but he truly shined in 2015. After accumulating 67 quarterback pressures, 10.5 sacks and 17 tackles for loss, Buckner earned Pac-12 defensive player of the year honors. Moreover, PFF's Sam Monson wrote prior to the draft that Buckner might have been the most productive player in all of college football in 2015. If Buckner makes a seamless transition to the pros, he'll greatly aid a 49ers team that finished 29th in both total defense and sacks last season.
With pass-rushing linebacker Aaron Lynch out for the first quarter of the season because of a violation of the league's substance abuse policy, the Niners will need Buckner to hit the ground running. Lynch recorded 12.5 sacks during his first two years and finished 10th in the league last season in hurries (28).
The 49ers stayed in the Pac-12 with their second pick, Garnett, though they had to pay a high price to move back into the first round to land the ex-Stanford guard. In trading the 37th, 105th and 128th picks to Kansas City for No. 28, the 49ers surrendered 136 cents on the dollar, according to Chase Stuart of FiveThirtyEight. It was a questionable move, but the fact that the 49ers will be able to control Garnett for five years (it would've been four for any prospect they'd have chosen at No. 37) likely made the deal easier to make for the organization. Garnett was an accomplished blocker at Stanford, where he won the Outland Trophy – which is given annually to the best interior offensive lineman in the nation – and earned consensus All-America honors last year.
Opposing offenses torched the 49ers through the air last season, evidenced by their defense's 30th-place DVOA against the pass. Further, quarterbacks put up a 98.1 rating (25th worst in the league), averaged 8.0 yards per attempt (30th) and threw just nine interceptions (tied for 26th) against San Francisco. With that in mind, the 49ers turned to their secondary with their third- and fourth-round picks. The first of those selections, ex-Mississippi State cornerback Will Redmond, is still recovering from the torn ACL that ended his college career last October. However, Redmond – whom Daniel Jeremiah of NFL.com said might have been a first-rounder if healthy – has looked good during his time with the 49ers and could be their answer at nickel corner this year, Barrows wrote earlier this week.
Blackmon is familiar with fourth-round corner Rashard Robinson from their time in the SEC. Robinson went to LSU, where he dealt with suspensions for a failed drug test and academic issues before the team dismissed him last summer after an arrest for unauthorized entry into quarterback Anthony Jennings' apartment. Nevertheless, the 49ers felt the troubled 21-year-old's upside was worth the gamble. Mark Dulgerian of NFL.com regarded the 6-foot-1, 177-pounder as a potential top 40 pick based on talent, but his off-field woes dropped him to the 133rd choice.
Extensions and Restructures:
San Francisco locked up two members of its front seven, linebacker NaVorro Bowman and lineman Quinton Dial, to extensions in recent months. Bowman, the more notable and accomplished of the pair, is now under 49ers control through the 2022 campaign. The move to extend Bowman, thereby adding $44MM total and $20MM in guarantees to his previous deal, surprised because he still had three years remaining on his contract at the time. At $67.5MM, Bowman now leads all inside linebackers in overall contract value.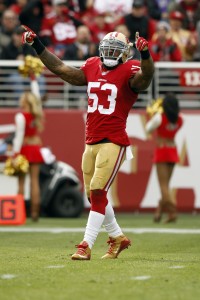 It's remarkable that Bowman, 28, was even in position to receive an extension after suffering a devastating knee injury in January 2014. Back then, Bowman tore both his ACL and MCL in the 49ers' NFC title game loss to Seattle, leading to questions as to whether he'd ever be an effective player again. Prior to the injury, Bowman was an elite performer with three straight first-team All-Pro seasons on his resume. Bowman missed all of 2014 while recovering, but he returned with a vengeance last season to make 16 starts, pile up a league-high 154 tackles on 1,101 snaps (first among Niners linebackers by 305) and once again nab first-team All-Pro honors.
PFF wasn't particularly bullish on Bowman's output, though, ranking him a so-so 51st among 97 qualified linebackers and assigning him a miserable grade in pass coverage. Still, Bowman's comeback last season was a positive development for the 49ers in a season with few of those, and he's now the long-term heart-and-soul leader of their defense – a role which Patrick Willis filled with aplomb before retiring last year.
Dial, meanwhile, took on full-time work for the first time in 2015, starting in each of his 15 appearances. Along the way, the 2013 fifth-round pick established new career marks in tackles (59), sacks (2.5) and defensive snaps (662), and PFF ranked his play a middle-of-the-pack 62nd among 123 qualified interior defensive linemen. The 49ers leaned heavily last year on Dial, who was second among their D-linemen in snaps (only Williams had more), and he'll continue to give them a palatable option at a reasonable cost.
Other:
Unsurprisingly, the doomed-to-fail Tomsula era was ephemeral. Tomsula had to follow the act of an elite head coach, former boss Jim Harbaugh, and the longtime defensive assistant was in over his head from the get-go. Plus, the deck was stacked against Tomsula immediately as a result of the 49ers taking so many shots to their roster before the season began. The departures of Willis, Chris Borland, Justin Smith, Aldon Smith, Chris Culliver and Perrish Cox ravaged a once-formidable defense, while offensive cornerstones Mike Iupati, Anthony Davis and Frank Gore also went in other directions. With those important contributors no longer around, the Tomsula-led Niners stumbled to their worst record since 2007 and suffered nine double-digit defeats.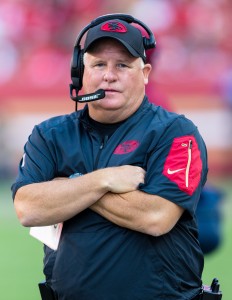 As they searched for Tomsula's replacement, the 49ers interviewed six candidates before hiring Kelly, who wasn't out of work long after the Eagles fired him in December. The offensive-minded, unconventional Kelly fell one game short of lasting a full three seasons in Philadelphia, where he helped the club to a respectable 26-21 record, two 10-win showings, and a playoff appearance. Those are quality results on paper, but the wheels came off after Kelly took control of the Eagles' roster last offseason. Once that happened, his first head coaching stint in the NFL began careening off a cliff.
Kelly wasn't exactly a players' coach in Philly, where there were accusations of racism and complaints about daily urine tests and his fast-paced offense, so the 49ers took a risk in awarding him a $24MM contract. Kelly has experienced plenty of success at the college and pro levels, though, and it's possible he'll get back on track now that he no longer has primary control over an NFL roster (that's Baalke's responsibility). Further, as an offensive guru who has extracted career seasons from mediocre-at-best QBs like Nick Foles, Mark Sanchez and Sam Bradford, there's a chance he'll be able to mold either Kaepernick or Gabbert into a usable starter. Kaepernick, of course, was among the league's best dual-threat signal-callers just a couple years ago.
To help lead his coaching staff, Kelly hired Curtis Modkins and Jim O'Neil as his coordinators. Kelly, not Modkins, is the real offensive mastermind and gives the 49ers a much more credible play caller than Chryst.
O'Neil is the defensive successor to Eric Mangini, who was in a difficult position thanks to the aforementioned losses the 49ers had to deal with last offseason. Previously the D-coordinator with the Browns from 2014-15, O'Neil had his ups and downs in Cleveland. As a rookie coordinator, O'Neil's group finished top 10 in both yards and points allowed. However, it plummeted toward the cellar last season, ranking just 27th and 29th in those two categories. Given Kelly's uptempo offensive attack, O'Neil has his work cut out for him in San Francisco. In his three seasons with the Eagles, Kelly's teams had to defend more plays than any other squad in the league.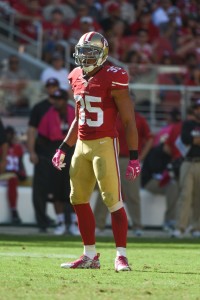 One player O'Neil is likely to coach through at least next season is safety Eric Reid, whose 2017 fifth-year option the 49ers exercised in May. Reid, who has been a full-time starter for the Niners since they selected him 18th overall in 2013, is now slated to be on their books for upward of $5.6MM next year. Reid is coming off his first season without an interception, though PFF still ranked him an above-average 36th among 89 qualified safeties in overall performance. The 24-year-old picked off a combined seven passes during his first two seasons in the league. Four of those came as a rookie in 2013, Reid's lone Pro Bowl campaign.
Joining Reid and the rest of the 49ers this year is right tackle Anthony Davis, another player in whom the 49ers previously invested a first-rounder. Davis, the 11th pick in 2010, started in all 71 of his pro appearances through 2014 and then took a hiatus from football last season. While Davis' return this year was expected, he took his time applying for reinstatement to the league and even swiped at Baalke and the organization via social media before officially coming out of retirement last month.
The soon-to-be 27-year-old is now working to beat out Trent Brown for his old job. Brown, not Davis, ran with the No. 1s during the 49ers' preseason opener. Interestingly, Davis is now 30 to 40 pounds lighter than he was in 2014, per Matt Maiocco of CSNBayArea.com, but it remains to be seen whether that will affect his performance.
Top 10 cap hits for 2016:
The 49ers were neither competitive nor interesting last season. At the very least, they should be more compelling this year with Kelly at the helm. The roster isn't going to remind anybody of the superb one the franchise had during the halcyon days of the Harbaugh era, however, so it's unfair to expect many wins this season. Frankly, after doing so little during the offseason to address their dearth of talent, it'll be surprising if the Kelly-led 49ers pick outside the top 10 in next year's draft.
Information from Over the Cap, Spotrac, and Roster Resource was used in the creation of this post. Photos courtesy of USA Today Sports Images.
Follow @PFRumors