Roger Goodell and the NFL have once again prevailed in appeals court. As Dave Campbell of the Associated Press writes, the 8th U.S. Circuit Court of Appeals ruled earlier this week that NFL arbitrator Harold Henderson "acted with his rights" when upholding the six-game suspension handed to Adrian Peterson in 2014. Last year, U.S. District Judge David Doty had said Henderson "overreached his authority" when handling the NFLPA's original appeal.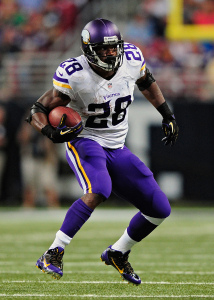 Before we discuss what this means for the NFL and the players, let's review the previous circumstances. Peterson was originally handed a six-game suspension by Goodell following news of child abuse, with the commissioner citing the NFL's personal conduct policy (a policy that had been adjusted following the infamous Ray Rice video). However, the NFLPA argued the suspension couldn't be applied retroactively, since the reported abuse took place three months before the new rule was enhanced. Doty agreed with the Players Association, but that decision was revered this week by the 8th U.S. Circuit Court of Appeals.
Peterson was originally put on paid-leave for the first nine weeks of the 2014 season, and he was subsequently suspended for the final six weeks. The NFL had originally collected half of Peterson's pro-rated forfeited salary, but they initially held off on collecting the other half. As NFL.com's Ian Rapoport tweets, Peterson will now owe the NFL the equivalent of three game checks from the 2014 season (around $2MM). To be clear, Peterson will not miss additional time.
So what does this mean for the NFL? As Ben Volin of The Boston Globe writes, the 8th U.S. Circuit Court of Appeals is confirming Goodell's "wide-ranging powers to punish players who violate the "integrity of the game."" When coupled with the recent Tom Brady decision, Goodell's "disciplinary powers" have been reinforced (while the union's "bargaining power" has seemingly been weakened in regards to the next CBA).
The NFLPA released a "statement of resignation" (via Campbell):
"Our union pursues all claims because we believe in due process, fundamental fairness and in the spirit of collective bargaining agreements. While the NFLPA disagrees with the decision, we accept this loss," the union said. "When negotiation or collective bargaining fails to resolve our differences, we will always fight and pursue every recourse for our players' rights."
Photo courtesy of USA Today Sports Images.
Follow @PFRumors